A-Bomb | Backman Funeral | Olson Well | Sold Cows | Oil Well | Electricity | Phone | Getting TV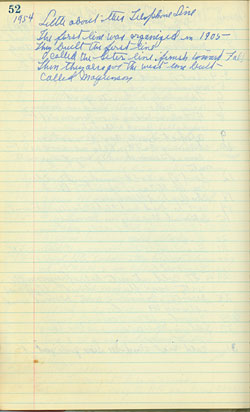 The Telephone Line
Pauline Olson made two entries in her diary about the telephone and its history in her house. This one was inserted between the end of March 1954 and the beginning of April 1954.
1954 Little about this Telephone Line

The first line was organized in 1905
They built the first line
Called the Seter line. Finish toward Fall
Then they also got the West line built
Called Magnuson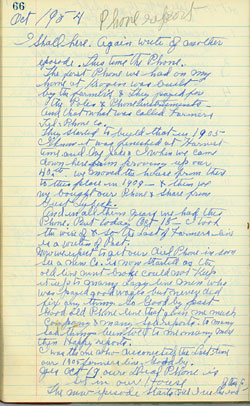 Telephone Line – Second Entry
Toward the end of October 1954, Pauline again submitted to her need to record her personal history and the history of her community. Here she completes the history of telephone service in their community.
Oct 1954 Phone Report
I shall here. Again write of another
Episode. This time the Phone.
The first Phone we had on my home at Krogen was built by the farmers & they payed for the Poles & Phone instruments – And that what was called Farmers TelePhone co.
They started to build that in 1905 I know it was finished at Harvest time and We Jake & I when we came down here from proving up our 40 a we moved the house from there to this place in 1909 - & then we bought our Phone & share from Gust Lubeck.
And in all them years we had this Phone. But today Oct 18 – I took the wire off & so the Last of Farmers line is a writen off past.
Now we expect to get our dial Phone in soon See a new Co. is now started as the old line went broke could not keep it up too many lazy line men who was payed good wages but never did fix any thing. So Good by past. Good Old Phone line that given me much company & many Sad reports. To many Sad things been told to me many more then Happy reports.
I was the one who disconnected the Last line our 1905 farmers line. Good by.
Yes Oct 19 our Dial Phone is Set in our House
The new episode starts Will I see the end of this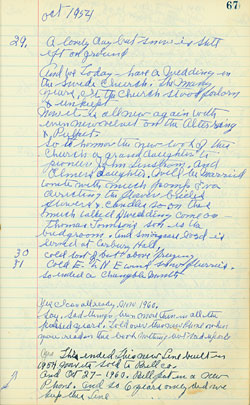 [Next page – added later]
Yes, I can all ready. now 1960.
Say. Sad things been more then was all the passed years. Told over this new Phone when you read in the book nothing but sad reports
Yes This ended This new Line built in 1954. Now its sold to Bell Co.
And Oct 27 – 1960. Bell put in a new Phone. And so 6 years only did we keep this Line.