Introduction | Activity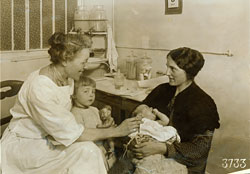 The Red Cross sent doctors and nurses to France
during and after the war to care for civilians. In
this photo, Dr. Cora Allen tends to French children.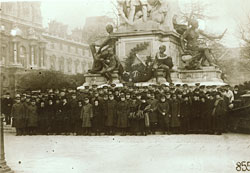 A large group of Red Cross nurses, doctors, and
support staff gathers for a portrait in Paris at the
statue of Gambetta. Like Leila Halverson, most Red
Cross workers tried to absorb the cultural
experience of their time in France as well as caring
for the poor and wounded soldiers.
SHSND# A4527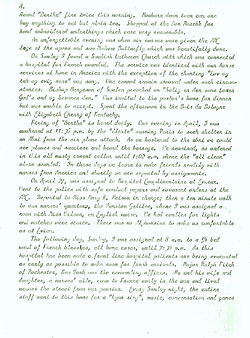 Leila Halverson letter page 1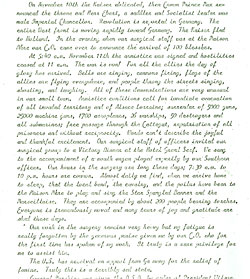 Leila Halverson letter page 4
Leila Halverson was thirty-five when the US entered the Great War (World War I). Born in Wisconsin to Norwegian immigrant parents, she moved to Grand Forks, North Dakota with her sister, Mrs. H. P. Thorgrimson. Halverson trained as a nurse at Luther Hospital in St. Paul, Minnesota, and then took a job as school nurse in Grand Forks.
When the war was devastating Europe, Jane Delano, national head of Red Cross nursing, recruited Halverson from her school nurse position to serve civilian populations in France. Later, when the US entered the war, Halverson also worked in military hospitals caring for French, English, and American wounded men. After the war, Halverson went on to serve as a nurse in the Middle East and Poland. Later in life, she taught nursing and held the positions of treasurer and secretary of the State Board of Nurse Examiners in Minnesota.
Leila Halverson went to war with the Red Cross. In addition to the 8,000 Red Cross nurses, more than 30,000 women served in some branch of the military service as nurses, occupational therapists, ambulance drivers, and as telephone operators with the Signal Corps. Women were not fully militarized meaning they did not have rank and were dismissed without military benefits after the war. While the Red Cross provided women nurses with a career, the Army, Navy, and Marine Corps did not.
Leila Halverson was typical of many professional women of her time. From the late nineteenth century until the 1930s, the marriage rate for women declined while the number of women seeking a college education and a professional career increased. Leila Halverson fit that profile because she was not married and set out to excel in one of the few professions open to women at the time. In doing so, she was able to make a living, tour widely, and have a satisfying career.
Leila Halverson wrote a memoir of World War I after she retired from her busy and varied career. Included here are two excerpts from the memoir. In the first section (pages 1, 2, 3), she tells of living with the constant bombardment of Paris, learning to work in surgery (a huge change from being a school nurse), and her pride in being a North Dakota nurse. The second excerpt (page 4) tells of the armistice and the joy the French felt with the end of the war after four difficult years.
Halverson uses some terms that may be unfamiliar. Blessee is the French word for wounded soldiers. Dakin solution was an antiseptic used to clean wounds; there were no antibiotics. Airplanes (another new technology of war) carried many of the bombs that were dropped on Paris, but the Germans also used cannons. It is doubtful that the cannon fire Halverson heard in Paris in 1918 was actually from one of the four guns called Big Bertha; these gigantic cannons had been removed from service before this date. A pension is another term for small apartment.
SHSND Mss 20208