Intro | CSW Report | Statistics | Recommendations | Committee Reports |
Activity 1 | Activity 2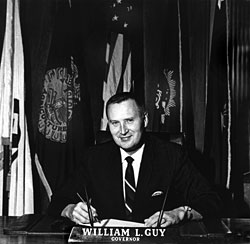 The 1950s social reform efforts, inspired by the Civil Rights Movement, raised the consciousness of many citizens about their status in relation to the Constitution and economic equity. The United Nations raised concerns about the status of women world-wide in 1947. In 1962, President John F. Kennedy created the President's Commission on Status of Women (chaired by former First Lady Eleanor Roosevelt) in order to address conflicting ideas about women's economic and civic equality and opportunity in the workplace. Following the establishment of the President's Commission many states created commissions as well. North Dakota was one of thirty-two states that had active commissions in 1964.
In North Dakota, the Business and Professional Women's clubs (BPW) and the American Association of University Women (AAUW) asked Governor William Guy to establish a commission. He did, but the commission had no budget, not even to pay for the travel of members or the printing of their report.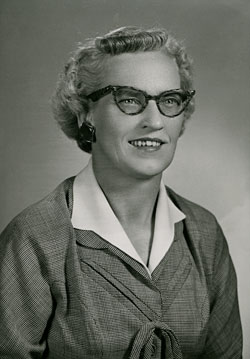 The commission's first chair was Agnes Geelan who was also chair of the North Dakota Workmen's Compensation Bureau. The Vice-Chair was Dagny Olson, a court reporter, former clerk of the state Senate, member of BPW, and later president of the North Dakota Federation of Republican Women. The Commission met in January 1964, and its committees met throughout the spring. On July 17 and 18 the commission sponsored a conference in Bismarck attended by 220 women and men. Others sent letters to the commission expressing their interest in reforming law and custom to give women greater opportunities.
The Commission gathered and analyzed statistics, listened to citizens' comments, and examined state laws. The Commission filed a report with Governor Guy on December 12, 1964 and made recommendations to the legislature for specific bills to address women's inequality. They met with success in several categories: the law exempting women from jury duty was repealed (1967); an equal pay law was passed by the legislature (1965); and the law limiting women's labor including denying women overtime was repealed (1965, 1976).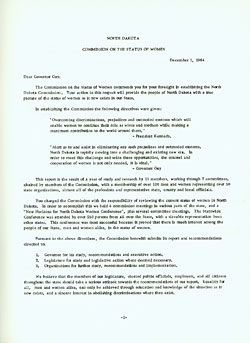 Though the Commission was initially successful, in subsequent years it met irregularly and members were less enthusiastic about their work. Dagny Olson resigned from the Commission in 1971 because it had become "ineffective," still had no funding, and no "definite directive."
The North Dakota Commission on the Status of Women represents one part of the women's movement on the northern plains. The National Organization for Women was also active in the 1960s, as were groups of women on North Dakota's college campuses. The women of North Dakota were not in complete agreement that reform was necessary, but North Dakotans and especially legislators became more aware of women's status and all benefited from the changes wrought by the commission which continues its work today.
Mss 10223 Dagny Olson Papers