Introduction | The Gift | The Gift Comes Home | Terms & People | Photos | Documents | Activities
Did you know that North Dakota floated on the ocean less than 100 years ago? It's true! Proof can be found at the North Dakota Heritage Center in Bismarck. Of course, that North Dakota was not the state, but it was named in honor of the state of North Dakota.
What was the North Dakota?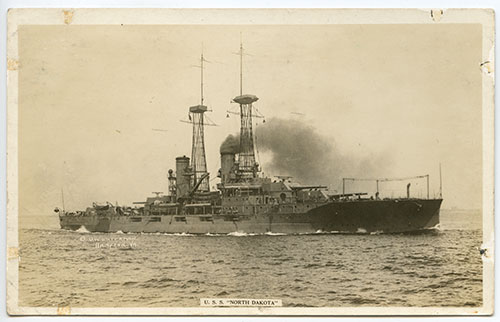 SHSND: 2002-P-15-Album2-P14b.
The USS North Dakota was a huge battleship that belonged to the United States Navy. This enormous ship was 518 feet long (almost the length of two football fields), 85 feet wide, and weighed 20 thousand tons (40 million pounds). Nearly 1,000 sailors lived aboard this "USS" or "United States Ship." At the time it was built, the USS North Dakota was the biggest, fastest, and most powerful battleship in the world.
On November 10, 1908, Governor John Burke and about 150 other North Dakotans traveled to Quincy, Massachusetts for the launching of the USS North Dakota. The ship was completed and put into official use on April 11, 1910. This battleship was used for training sailors, carrying troops, and guarding the East Coast of the United States. It never took part in a battle.
Source: SHSND Mss 20092