Introduction | Field Notes | Typewritten Transcripts | Song/Transcipt | Densmore Article | Activity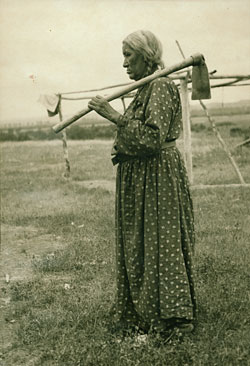 D0566-1 Scattered Corn standing with hoe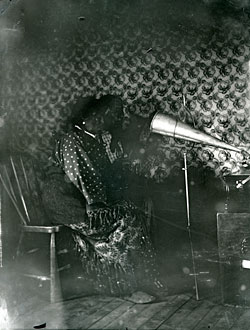 0270-099 Recording on a Victrola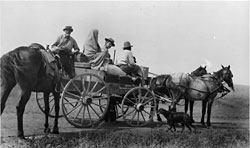 0086-1305 Reverand Hall, Mrs. Crows Heart,
Frances Densmore, and Crow's Heart, 1915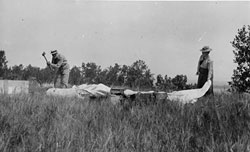 Reverand Hall and Frances Densmore raising tent
Many Plains Indian tribes had social organizations that had different kinds of functions.Mens societies were often associated with hunting or war. Womens societies were usually religious or social. Among the Mandan, men and women joined societies appropriate for their age group. Young women could join the Little River Women society; in their middle years, women joined the Goose Society; elderly women belonged to the White Buffalo Calf Society.
Young Mandan women joined the Little River Women society in their teens.Several years later,as adult women in their twenties, they turned over their right to the society to younger women in exchange for gifts that represented the high value of membership. This society originated long before Frances Densmore collected the songs in the early 20th century. Her informants were elderly Mandans of the Fort Berthold reservation including the highly respected Scattered Corn (Mrs. Holding Eagle) who had been a member of the society as a young girl and had learned about the society from women older than she was.
Ethnomusicologist Frances Densmore (1867 1957) recorded the songs of the Mandan and many other tribes. She was educated in music at Oberlin Conservatory. She became interested in the musicology of Indian tribes and began her study in 1905 with the music of the Ojibwe of Grand Marais and Grand Portage in Minnesota.Over the course of decades, Densmore recorded Native American music on more than 2,000 wax cylinders, including songs of the Chippewa, Mandan, Hidatsa, Arapaho, Cheyenne, Papago, Pawnee, Seminole, Sioux, and others.Her collaboration with Scattered Corn and many others allowed her to make all Americans aware of American Indian music and to dispose of the ignorant stereotype of the heavy drum or tom-tom beat that was used to represent Indian music in popular culture formats such as movies. She worked with the Smithsonian Institution to collect and publish her studies and eventually published twenty books and more than one hundred articles about Native American music.
Scattered Corn was born in the middle of the 19th century,the daughter of Moves Slowly, who was the last Mandan corn priest. Her mother was Medicine Seed, who taught Scattered Corn to build a proper earth lodge. During her lifetime, Scattered Corn built three earth lodges for her own use. In 1929, with funding from the State Historical Society, she built an earth lodge on the capitol grounds.
Mss 0335
If you are interested in learning more about gardening in North Dakota, please visit the How Does Your Garden Grow? Online Exhibit.