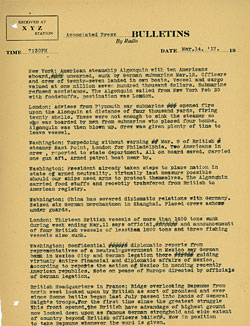 At the age of 15, Van Meter Cousins of Carrington had an important job. He received Associated Press (AP) news reports, via the Fargo Forum and the North Dakota Agricultural College (now NDSU) wireless transmission on his crystal set receiver. He typed up the press reports and posted them in downtown Carrington so all residents could read the up-to-date news of the status of the war in Europe and of the United States' diplomatic relations with Germany and Mexico.
Voice broadcasting on radio waves was a new technology in 1917 and was under the control of the US Navy until after the war. Radio broadcasting of regular news and entertainment programs did not happen until the 1920s.
A crystal set did not require batteries or external power. The antenna picked up radio waves and coils, placed at the exact spacing for receiving, translated the radio waves into words that could be heard through earphones. Van Meter Cousins' interest in radio continued beyond his teen years. By 1930, he had moved to New Jersey where he had a job as an electrical engineer.
The news that Cousins reported is interesting historically because it traces incidents of German submarines (another new technology) attacking merchant and passenger vessels on the high seas. This was one of the issues that drew the US into the war. In addition, we can read about the internment of German seamen (a policy applied again in World War II), the progress of the war in Europe, the reluctance of North Dakota and other states to enter the war, and the price of wheat which during the war reached unheard of prices near two dollars per bushel. This selection of eight of Cousins' fifty-six postings housed in the State Historical Society archives ends with President Wilson signing the Declaration of War against Germany.
SHSND Mss 20695