Introduction | Selection | Leland's Memoir | Photographs | Activities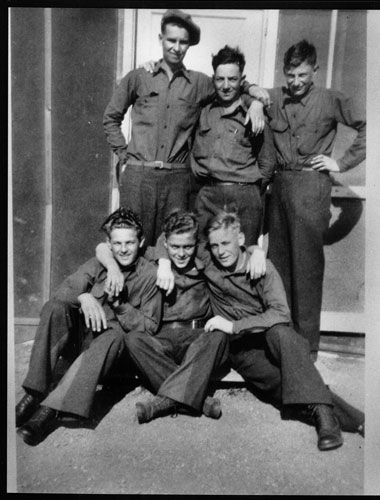 CCC members became good friends while
working on projects near Medora, ND.
CCC groups still have reunions
to renew their friendships.
SHSND: 0957-07
When Franklin Roosevelt took the oath of office in March, 1933, the nation was in the third year of a severe economic depression compounded by environmental disasters including drought in the Great Plains. Immediately, Roosevelt proposed to Congress an ambitious program designed to put people back to work, restore faith in the banking system, and shore up the economy. The first one-hundred days of Roosevelt's administration produced dozens of new laws many of which were known by their initials such as the Works Progress Administration (WPA) and Agricultural Adjustment Administration (AAA). Among these "alphabet soup" agencies was the Civilian Conservation Corps, or the CCC, also known as Roosevelt's Tree Army.
By June 1933, 235,000 men had enrolled and the CCC was opening camps where they were to work on federal and state public improvement projects. They built trails in national forests, camp sites and visitor centers in state and national parks, and dams and roads. Most of the work the CCC performed was located west of the Mississippi River. As they worked they learned construction skills, particularly in operating heavy equipment and working with stone. They were also given the opportunity to attend classes in a variety of topics which helped them prepare for life after their CCC service was concluded.
The organization was not part of the Army, but it was run in military fashion and the Army supervised the agency because it had the ability to organize and move large numbers of men about the country. CCC men lived in temporary camps where they worked, ate, slept, studied, and engaged in leisure activities. When their work was done, they departed for another work site. In this way, young men saw some of the United States other than their home state.
The men who joined the CCC had to be recognized as part of a needy family in their home counties. Veterans of World War I and the Spanish American War could also join. African American men served in segregated camps; Native American men served in units organized under the Department of Interior Indian Service. North Dakota was part of the eight-state Seventh Corps Area which had an allotment of 30,000 men at one time and 154 camps.
Hundreds of thousands of young men between the ages of 19 and 26 joined the CCC. Some served for six months, others stayed on for years. The program's goal was to raise the moral quality of young men through work and discipline and to prevent the young men from becoming a burden to their parents or becoming criminals. On the whole, many young men enjoyed their experience in the CCC. They traveled, ate regular meals, had fun on weekends, and sent money home to their families. In fact, they were paid $30 per month, of which $25 was automatically mailed to their parents.
Included in this document set are the application form for admission to the CCC, the certification form for those who were accepted, a memoir of a young North Dakota man who spent six years in the CCC, and photographs of projects and daily life in CCC camps.
Source: SHSND Archives Mss 10648; 353.092 P960.