A-Bomb | Backman Funeral | Olson Well | Sold Cows | Oil Well | Electricity | Phone | Getting TV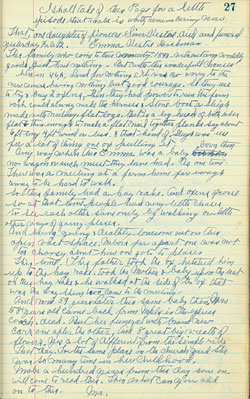 Olson Diary February 13 1953
I shall take of this page for a little episode that mabe is worth remembering now
That, one daughter of pioneere Siver Olestad died and funeral yesterday Feb 12. Emma Vestre Backman. This family who came to this country – 1893 – without any worldly goods, just had nothing – but with this wonderfull chances here in USA, Land for nothing. It was no worry to the new comers having nothing but good courage. So they used to try and buy 2 oxens, then they had power to run the farm work. [They] could alway make the harness and Stone boat - a sleigh made with nailing flat logs - that is a log hued off both sides flat & then enough to make a flat. Nail together planks say about 6 ft by 4 ft wide or less. & that kind of sleigh was used for a lot of thing one ox pulling it.
Any way when this Emma was a baby born then no wagon or such must they have had. As one time there was a meeting at a farm home far enough away to be hard to walk. So this family had a hay rake. And oxen of corse so at that time people had very little chance so see each other save only by walking or little other ways of going places.
And being young and deathly lonesome out on this open vast space. Nabors far apart. one was not too choosy about how one go to places.
This time. This father took the ox hitched him up to the hay rake. Took the mother and baby up on the seat on this hay rake and he walked at the side of the ox that was the way them two came to the meeting
And now 59 years later this same baby then now 58 years old came back from Minneapolis in the express coach. dead. But her funeral with brand new cars one after the other, and 8 great big wreath of flowers. Yes a lot of difference from the simple ride that day. To the same place on the church yard she was so many time in her childhood. Mabe a hundred year from this day some one will come to read this. Then what can you add on to this.
Ma.