Introduction | Territorial Documents | Celebration | Gov Letters | Oaths | Activity
Back to Oaths | Oath of Dakota Territorial Council | House of Representatives Oath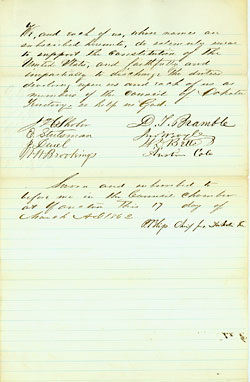 We, and each of us, whose names are subscribed hereunto, do solemnly swear to support the Constitution of the United States, and faithfully and impartially to discharge the duties devolving upon us and each of us as members of the council of Dakota Territory, so help us God.
J. H. Shober
D. T. Bramble
Enos Stutsman
J. W. Boyle
J. Deuel
H. D. Betts
W.W. Brookings
Austin Cole
Sworn and subscribed to before me in the Council Chamber at Yancton this 17 day of March A. D. 1862.
P. Bliss Chief Jus Dakota Territory.