Introduction | Territorial Documents | Celebration | Gov Letters | Oaths | Activity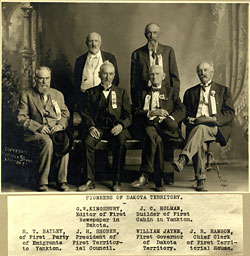 Pioneers of Dakota Territory
On November 8, 1859, the residents of Dakota, at least those living near Brambles store in Yankton, met to request that Congress authorize the creation of a territory allowing for a civil government. Eastern Dakota had been part of Minnesota Territory until Minnesota became a state in 1858. (Western Dakota was part of a large unorganized territory that included Montana and Idaho.) Lacking government and its stabilizing political structures, residents composed a memorial to Congress requesting civil status, but Congress did not respond until residents sent a second memorial on January 15, 1861. This time, Congress responded quickly and President Buchanan signed the Organic Act creating Dakota Territory on March 2, 1861. When word finally reached Yankton on March 13, the residents celebrated, but the work of creating a new government had just begun.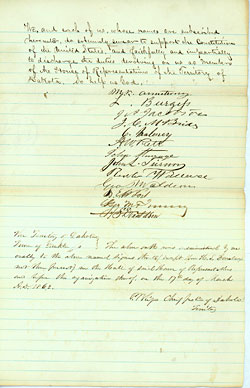 The first legislature was elected on September 16, 1861 and met for the first time on March 17, 1862. They completed their work on May 15. Under the leadership of the appointed governor, William Jayne, they established the territorial capital at Yankton, drew the boundaries of eighteen counties, passed a civil code, criminal code, and other laws providing for common schools, elections, taxation, and divorce. Many of these laws were inadequate, and few would be enforced in the next few years.
When Newton Edmunds, the second governor, spoke to the legislature in 1863, he called for new laws including the election of a state superintendent of instruction, more stringent election laws, and the creation of a fund to foster immigration to Dakota Territory. Later that year, Edmunds' plans began to take effect. The state auditor, Justus Townsend recommended that the territory impose a 5 mill tax on each dollar value of real and personal property.
The first State Superintendent of Public Instruction, James S. Foster, had little work to do because there were no public schools in the territory, but he gathered some statistics and presented a plan for funding schools. His report cited 600 school age children in the territory, but no school taxes had been collected. In fact few taxes or fines had been collected at all. If these laws were enforced, the schools could be funded.
Taking small steps, the governor, the legislature, elected and appointed officials began to create a civil government in Dakota Territory.
SHSND Archives Series 30076 Dakota Territory Governors Records, Folders 6, 7, 11