Introduction | Territorial Documents | Celebration | Gov Letters | Oaths | Activity
Oath of Dakota Territorial Council | House of Representatives Oath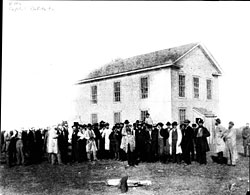 First Capitol of Dakota Territory, Yankton
The first state House of Representatives consisted of thirteen members. The Council had nine members including J. S. Gregory who was not present for the oath. This tiny gathering of twenty-two respected men from every organized district of the territory had the responsibility of creating a new government. All had been born in eastern states and many would return to the states in a few years to resume family or business responsibilities.
William Jayne took his oath of office in Washington, D.C. with a Justice of the Supreme Court presiding. He had probably not yet appeared in Dakota Territory when on June 1, 1861 the citizens of the territory met at Vermillion (no capital had been established yet) to declare their allegiance to the Union. From that point on, Dakota Territory (and later North Dakota) would be a Republican stronghold.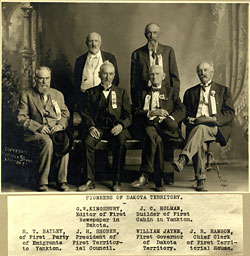 Pioneers of Dakota Territory
The members of the first territorial legislature simply swore to support the U. S. Constitution. By 1863, with the Civil War raging to the east and south, a far longer oath for legislators included the following section:
. . . [we] solemnly swear that we have never voluntarily borne arms against the United States since we have been citizens thereof; that we have voluntarily given no aid, countenance, counsel or encouragement to persons engaged in armed hostility thereto; that we have neither sought nor accepted nor attempted to exercise the function of any office whatever under any authority or pretended authority with hostility to the United States; . . . .

[SHSND Archives Official Papers of the Governor Series 30076, Fld 11]
The loyalty of early Dakotans is not surprising for many reasons. Most government officials came from northern states such as New York (Governor Edmunds) or Indiana (Enos Stutsman) where pro-Union sentiment was very strong. In addition, appointed officials depended on good relations with Republican presidents to maintain their positions and the territory depended on the Republican controlled Congress for all kinds of support.
Oath of Dakota Territorial Council | House of Representatives Oath