Introduction | Agricultural Census | Estella's Letter | Holmes' Letter | Images | Activity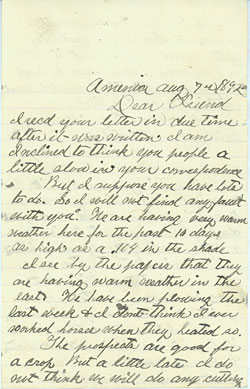 J. Rush Holmes Writes Home from Amenia
Amenia Aug 7th 1892
Dear Friend
I recd your letter in due time after it was written. I am Inclined to think you people a little slow in your correspondence
But I suppose you have lots to do.& So I will not find any fault with you. We are having very warm weather here for the past 10 days as high as a 104 in the shade
I see by the papers that they are having warm weather in the east. We have been plowing the last week & I dont think I ever worked horses when they heated so.
The prospects are good for a crop But a little late I do not think we will do any cutting before the 20th of the month. I was to Casselton yesterday after a load of Bran Got it to A. E. Woods Edgar said he had a piece of oats that would want cutting this coming week.
But harvesting will not be fairly commenced before the 20th
There will not be as large a crop as last year But a fair crop if nothing happens to it But one might have hail any time up to cutting which would do a great deal of damage. Just to give you a little Idea of the expense of harvest
The twine to tie up the crop on our plantation Will cost $600.00 dollars for this year quite a little money for strings
But I like to see them farm it here it here It is all speculation & of course you know I have a great fancy for speculation For I used to buy calves
By the way we have know [no] foreman on the Boston Farm But will have to have one for harvest
Charley spoke for the Job for Justin I was consulted by the owner in regard to Justin abilities to manage this thing through harvest I told him Justin was a good fellow But I thought Justin needed a little experience before he come out here to run a harvest crew. But I would like to see Justin out here a rustling the harvest crew here I think it would be fun for me Dont blarney this to Justin because Charley don't know as I know any thing about it Charley read a picture of your daughter & Ella the other day. They looked natural
Well I guess I have written all the western trash you will care to read. Oh what about Liley I wish when you write you would give one the particulars about it as you understand them. I am some what interested in regard to Ernest Wood I have wondered quite a bit If he had any hope in the future I used to know his Ideas of the future It seems sad to think of one so young & just started out to be called out so quick.
Well I am not going to take up any land just yet I think I see an opening in the future that I can make a living at for a while But may change my mind I have a note due and past due but I cant draw the money till after harvest as they are afraid of men
a quitting if they get their wages any where near it I will send you it all together this fall so the Troy house Clerk is dead Well that is bad. But it can't be helped I hear of Jessie once & a while here through Frank. But not much Oh I started up to spend Sunday With Floyd but missed the train So I cant go up till after harvest I was mad I am sorry to hear that your team run away glad none of you got hurt bad I suppose you are harvesting. How does making butter pay this year I would be glad to hear from Mattie.
But suppose she is busy too
I must quit too as long letter are not polite
Hoping to hear from you before it freezes up


I remain your friend

J Rush Holmes
Cass Co, N Dak