Introduction | Agricultural Census | Estella's Letter | Holmes' Letter | Images | Activity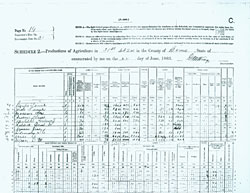 The United States Census is taken every ten years, but occasionally the federal government asks for an extra census of agriculture. The 1885 Ag Census is important because it is the last manuscript census available to historical researchers and it was taken during the height of the Great Dakota Boom. The Ag Census is full of detailed information about land, livestock, crops, and the estimated value of agricultural production.
This is a copy of a portion of one page of the agricultural census. The census-taker wrote the name of the farmer, and recorded details as the farmer reported them. Though we don't know Estella S.'s last name, we do know that her father's farm was in Barnes County and he had two mules which were rare on Dakota Territory farms. Perhaps he was Mr. T. C. Stevens (line 8) who appears on this page of the Barnes County census and had two mules.