Introduction | Work | Education | Athletics | Social Events | Fire & Engine Trouble |
Gunnery Practice | Activities
Athletic contests helped the enlisted men, petty officers, and officers to pass the time. Physical activity kept the men in good condition, but playing as a team representing their ship helped to foster good feelings and team spirit among the men in all their shipboard work.
While in port, sailors formed teams for baseball, football, and basketball. They also competed in gymnastics and track and field. On September 30, 1913, the New York Times reported on the basketball game the enlisted men of the North Dakota played against its sister ship, the Delaware for the Naval YMCA championship. The North Dakota team defeated the Delaware team by a score of 39 to 21. A forward named Gullickson scored 20 of the North Dakota's points.
The same day as the basketball game, men of the North Dakota also participated in gymnastics at the Naval YMCA gym in Brooklyn. The North Dakota had an excellent gymnast by the name of C. A. Danneman who tied for second in the parallel bars; tied for first in flying rings with his fellow North Dakota shipmate C. B. Forest, and took first place on the horse and the horizontal bars. C. B. Forest also placed in all events.
Some ports had baseball diamonds, and in these ports, baseball games were popular. Whenever the ship docked at Guantanamo Bay, Cuba the sailors were able to take advantage of the large sports complex that included a baseball diamond, bleachers, and a canteen where sailors could buy soft drinks and other refreshments.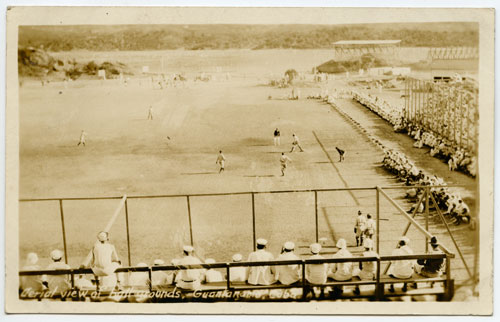 Officers and enlisted men watch the
North Dakota
ís baseball team play at Guantanamo Bay, Cuba.
2002-P-15-Album1-016
Another sport that was popular with sailors was rowing. The North Dakota had a rowing team composed of Chief Petty Officers (CPOs) that competed with boats from other ships. No record has been preserved about the ranking of the North Dakota's CPOs in this competition, but their pride in their sport is apparent in the photograph of the team.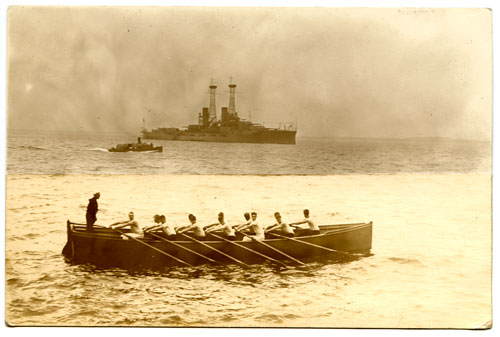 The USS
North Dakota
is seen in the background of this photograph of the shipís rowing team.
2002-P-15-Album2-P28b