Introduction | The Fire | New Capitol | The Strike | Cornerstones | Activities
The Fire | Cause | Fire Marshall Report | William Laist
The original North Dakota capitol had been modernized. It had electrical wiring, city water, and a central heating plant located in a separate building just to the east of the main building. Each floor had two fire extinguishers, and the upper floors had fire hoses. The night watchman punched a clock at several points as he made his rounds insuring that the building was under proper supervision at all hours.
On December 28, 1930, the night watchman went off duty at 6:20 a.m. and the Day Guard, Joe Winkel, took over. Just before 7:30, Winkel heard a sharp, cracking noise – perhaps a beam falling – signaling that something was wrong. Checking the fourth floor, he found the fire well underway.
Winkel's telephone call to the fire department at 7:30 a.m. was answered by Bismarck's three fire fighters and two fire trucks. In spite of the 16 degree weather, citizens also came running or driving from their homes. State officials turned out, including former Governor Walter Maddock, to help as they could. One fire truck, unable to drive up the icy hill, was pulled by people and their cars to the scene of the fire.
State officials who had been called to help save the building tried to get documents out of the building. Secretary of State Robert Byrne found a ladder, climbed up to his first floor window, and broke into his office. He handed important documents out the window to Charles Liessman, Assistant Secretary of State, who handed them down the ladder to his son, Emerson, and other citizens. The last document Secretary of State Byrne retrieved from the safe was the original North Dakota Constitution.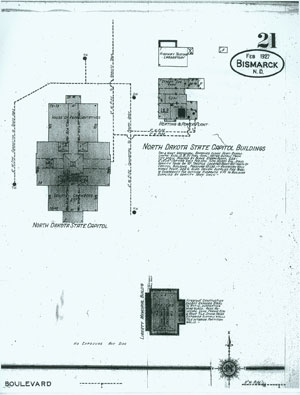 Sanborn Fire Map of Capitol Grounds
The Sanborn Fire Insurance map indicates that the capitol was served by a six-inch water pipe. There was also a 50,000 gallon reservoir. They did not supply enough water to fight a fire that was already out of control before the first fire truck arrived. There was little to do beyond preventing injuries and saving as many documents as possible.
Though some departments were able to save papers, others lost most of their records. Offices on the upper floors were destroyed by the fire and many records in the offices of the Highway Department, the Tax Commissioner, and the Attorney General where the vault exploded, were lost.
Immediately the governor and state officials relocated state offices in buildings around Bismarck. The Senate and House of Representatives met in January as planned in the gymnasium of the Memorial Building and the City Auditorium, respectively. Some state offices soon re-opened in the lower two floors of the north wing of the capitol which had suffered the least damage.
The cause of the fire has not been established with certainty.
Corwin's Film of the Fire (1930) - Click "Access this item." in the new window
Source: Charles and Viola Liessman Papers, SHSND Mss 10113.