Introduction | Louis Connolly Introduction | Arthur Huidekoper Introduction | Activity
Arthur Clarke Huidekoper Memoir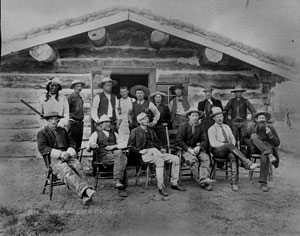 Arthur Clarke Huidekoper sits in the middle of the front row
(third from left) of this undated photo taken on a ranch in
Slope County. The other men are his partners and
cowhands, and neighbors.
Arthur Clarke Huidekoper (1845-1928) came to northern Dakota Territory in 1881 to hunt and take a look at the badlands region. He was already well-established as a gentleman farmer of Pennsylvania who, as a descendant of a wealthy ancestor, had plenty of money and a comfortable life. In Dakota, he sought to enhance his livestock operations, and to also live the adventures of the West.
Huidekoper joined with the Eaton Brothers (also from Pennsylvania) in a beef operation near present day Medora. He bought enormous tracts of railroad land, which was available in a checkerboard pattern, leaving every other section in the public domain and open to homestead or timber culture claims. Huidekoper, though, thought these parts of Billings and Slope Counties would never be farmed, so he fenced huge portions of his land which also closed off access to legitimate claimants. Here he raised cattle until the disastrous winter storms of 1886-1887 destroyed most of his herd. However, he noticed that his horses had survived. He sold the remaining cattle and began to raise draft horses. The horses were shipped to his farm in Conneaut Lake, Pennsylvania for training, then were sold to large companies that needed heavy horses for pulling loaded wagons. Among his best customers was Fred Pabst, a Milwaukee brewer.
For many years, there were few challenges to his claim, but in 1906, Huidekoper faced charges filed by the Department of the Interior which had ordered him to remove his fences and make the land he didn't own available to homesteaders. Huidekoper spent a few days in jail, paid a fine, and in disgust with the inflexible system of land distribution, sold his ranch and horses. A. C. Huidekoper wrote several memoirs about ranching and his adventures in the badlands of North Dakota.