Intro | Frontier Scout | Wales | Trobriand | Surgeon Reports | Marsh | Indian Gardens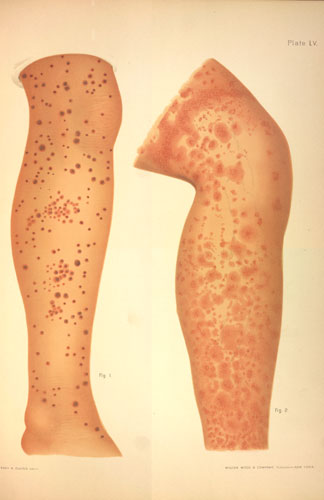 This illustration from a 19th century medical book,
shows the lesions caused by scurvy. Bleeding
from the hair follicles usually started in the legs,
demonstrating the weakness of the blood vessels
due to a lack of Vitamin C. from Prince A. Morrow,
A.M., M.D., Atlas of Skin and Venereal Diseases,
(New York: William Wood & Co., 1889), Plate LV.
Scurvy, or scorbutus, occurs in humans who lack Vitamin C in their diet. Vitamin C, which humans cannot produce in their own bodies, must be consumed in adequate quantities to maintain the strength of collagen and blood vessels. Scurvy results in bleeding of the tissues which can be seen in the hair follicles of the leg and in the gums and other mucosal surfaces. As the disease advances, the patient becomes unable to walk, the teeth fall out, and wounds open on the skin.
The disease was commonly associated with sailors who were at sea for many months with few vegetables or fruits to provide the necessary Vitamin C. When the British Navy learned that sending ships to sea with lemons and limes decreased the incidence of scurvy, British sailors came to be called "limeys."
The cause of scurvy – which Army surgeons called the "scorbutic taint"- was well-known by 1864, but the Army had not solved the logistical problem of supplying soldiers with vegetables and fruits at remote posts. River traffic ceased by early November and railroads did not move across northern Dakota Territory until the mid-1870s. Grasshoppers regularly destroyed summer gardens, and few posts had storehouses that did not freeze. The use of canned foods was relatively new, but cans of food were heavy and difficult to transport. By 1870, most of the posts had been modernized with better storage facilities, and research by Army physicians (known as surgeons) resulted in greater knowledge of dietary prevention of scurvy. Army surgeons ordered the regular serving of pickles and vinegar as the first line of defense against scurvy, but eventually canned and fresh fruits and vegetables found their way into the enlisted men's diet.