Introduction | Biography | Photographs | Documents | Activities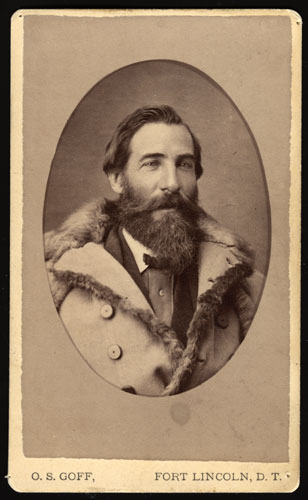 Frederic Francis Gerard
Frederic Francis Gerard was born Nov 14, 1829 near St. Louis, Missouri to French Canadian parents. He benefited from a good education at Xavier College. At the age of 19, he left home and traveled up the Missouri River to Fort Pierre where he was hired as a clerk of the American Fur Company.
The next spring, he traveled farther up river to Fort Clark built in 1831 near Hidatsa and Arikara villages. Here, Gerard learned to speak Arikara and often spent winters with the Arikara. In 1855, the company transferred him to the post near Fort Berthold where he remained here until 1869.
While managing the Fort Berthold posts, Gerard took an Arikara woman as his companion. Her name was Helena Catherine and together they had three daughters named Josephine (1860), Carrie (1862), and Virginia (1864). These daughters were baptized by Father Pierre-Jean De Smet. In 1874 the three girls were sent east to a Catholic boarding school for their education. As young women, Josie and Virginia became sisters of the Benedictine order and served at a convent in St. Joseph, Minnesota.
Gerard had many encounters, both hostile and friendly, with Indians he met at his trading post. As the clerk of an important trading post near the Missouri River, he also met whites who were moving onto the northern plains and passing through on their way farther west, including the ill-fated group of miners returning to St. Louis with a boat full of gold dust.
(See Unit 3: Document Set 3).
Small pox had devastated the Mandan and other tribes in 1837 and recurred frequently in subsequent years. In 1866, Gerard convinced the Arikara leaders to allow him to vaccinate the children against small pox which protected them during the next outbreak.
After 1869, when the American Fur Company sold its stock to another trading outfit, Gerard became an independent trader with stores at forts Berthold and Stevenson. He set up a store near Fort Buford, but in 1871, but military regulations soon forced him out. By now, his companion was Katie or Katherine Rider, of the Blackfeet nation with whom he had a son, Frederic. He intended to establish trade with the Blackfeet along the Canadian border, but his wagons carrying goods to Fort Benton were attacked and he lost all his supplies.
He gave up the fur trade and tried to establish a ranch across the river from Bismarck. He also worked as an interpreter because he could speak Sioux, Arikara, and Chippewa as well as French and English. His land claim was properly taken by the Northern Pacific Railroad, but in exchange for his services the railroad gave him 40 acres between the Missouri and Heart Rivers.
By 1876, he was working as an interpreter at Fort Abraham Lincoln, a post he would hold until 1883. He traveled with the Seventh Cavalry to the Little Big Horn River in Montana where he was assigned to General Reno's command and narrowly escaped death in battle.
In 1879, at the age of 50, he married Ella Waddell of Kansas City. Ella Waddell was a young woman, and a member of a prominent family. She brought respectability to Gerard, who had previously been known by the pejorative term, "Squaw-man." With Ella, Gerard had four more children, Frederic (1878), Birdie (1880), Charles (1888), and Florence (1893). He remained an affectionate father to his three oldest daughters and Ella's children, but he apparently left Katie's son, Fred, to be raised by others. Carrie lived with Gerard's third family for a time.
During the 1880s, Gerard opened a store in the new village of Mandan and he served on the Morton County commission. He also operated a ferry across the Heart River. In 1890, Gerard and his family moved to St. Paul, Minnesota where he worked in advertising for Pillsbury Baking Company.
The last months of his life were spent in the care of the Benedictine nuns at St. Cloud where his two daughters lived and worked. He died January 30, 1913.
Frederic Gerard experienced, and to some extent fostered, the great economic, social, and political transitions of the northern plains. His families remind us that the transition from unorganized territory to statehood, from a region dominated by several different Indian tribes to one dominated by the culture and government of the United States, came at a very high cost for some individuals.
Source: SHSND MSS 20147