Intro | High Dog Count | Beede's Provenance | No Ears Count | Discussion |
Activity 1 | Activity 2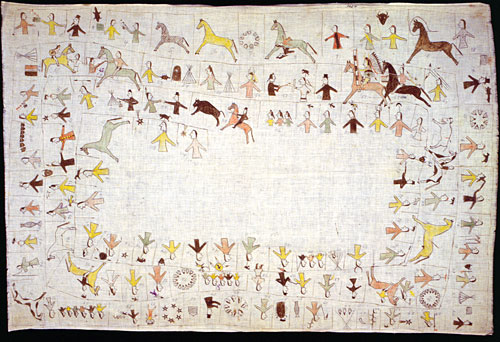 Aaron Beede collected, or recorded, High Dog's winter count in 1912. Beede, an Episcopalian missionary to the Teton Lakota, carefully wrote the Lakota terms describing each of the winter count glyphs (pictures), typed the terms, then re-typed the terms and wrote the literal translations for each word above the typed word. Then he typed the whole story the tribal history of each event depicted on the winter count pictograph. The story describes why each event was significant enough to identify a particular year.
High Dog was the keeper of this winter count, but he probably did not originate the pictograph or the count which likely began before 1798. He might have inherited the role of winter count keeper, or might have purchased the right to it. In either case, the keeper would have chosen the symbol for the year after consulting with the leaders and elders of the tribe.
The winter counts demonstrate not only the method of remembering the history of a people, but of the cultural transition that took place during the 19th century. Though Beede concludes that the Lakota were off in their numbering of years, it is well to remember that Indians did not use the common Gregorian calendar that Beede used, but reckoned the annual cycle from the first snow of one winter to the first snow of the next.
The Lakota were not the only tribe to keep winter counts in either oral tradition or with pictographs painted on hide, muslin, or paper. However, many surviving counts were collected on Sioux/Lakota reservations. The Sioux were interesting to missionaries, traders, army officers, and government agents because of their long resistance to white dominance and their involvement in the Battle of the Little Big Horn. Because of the large population of Lakota and the great numbers of interested whites in their communities, Lakota counts survived dislocation and loss of tradition. While many Lakota traditions, such as the Sun Dance, were outlawed, the winter count was not, so many winter counts continue into the twentieth century.
Beede describes the economic importance of the winter count and other artifacts of the Lakota past in his letter (dated 9 June1917) to State Historical Society of North Dakota Museum curator Melvin Gilmore. Beede purchased items from Lakota men and women including High Dog's winter count for which he paid $8.00. Today, its value is beyond reckoning because of its explanation of the Lakota past.
SHSND Museums 791
Reading the Beede's Interpretation
This document is a very close copy of Beede's typescript. The editor has made very few changes. The following will aid in reading the count:
corrected spelling where the meaning may not be clear
added line space between years for easier reading
brackets [xxx] indicate where the editor has added words. Parentheses (xxx) are Beedes own
Beede uses quotation marks to indicate a direct translation of High Dogs words.
Beede uses the equals sign (=) to indicate direct translation