Introduction | Map | Images | Activity
Though these photographs were taken between 1900 and 1920, they reveal how life on the northern Great Plains changed when horses were acquired. The dog travois was the common means of transport when La Verendrye visited the Mandan Villages. However, within a few decades, horses had increased the possibilities for travel and hunting with their greater size and strength. A horse could carry more and heavier supplies (as well as people) than could a dog with a travois. The photograph of Mrs. Charging Thunder was printed as a cyanotype which accounts for the blue tinge of the photograph.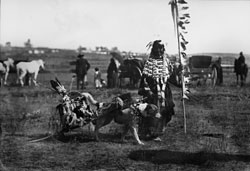 1952-5560 dog travois, Fiske photo
Though this photograph was taken in the 20th century, the typical Mandan earthlodge had not changed greatly since the time of La Verendrye's visit. La Verendrye described the lodges and the interiors in his report on his journey to the Missouri River villages.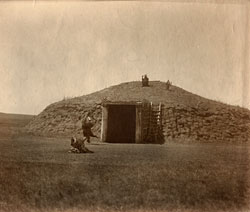 0086-1405