This map was published by the Public Service Commission in 1946. It measures 13 by 21 ¾ inches. Source: SHSND PSC 333.7932 N864m 1946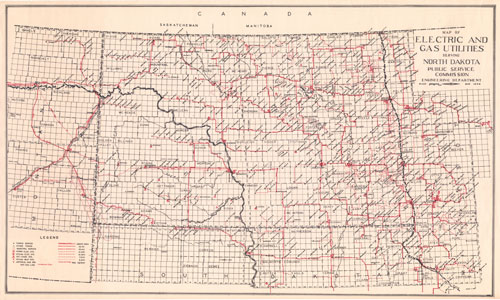 Map of Power Transmission Lines (1946)
This 1946 map shows the extension of electric service in North Dakota. Congress passed the Rural Electrification Act in 1935 which created the Rural Electrification Administration (REA). The REA made loans to non-profit organizations, cooperative associations, and public organizations to build power generating plants and power lines to distribute electric power to small towns and farms. In North Dakota, power cooperatives, or co-ops, took the lead in electrifying the countryside. Highlines, or power lines, brought electricity for lighting, refrigeration, motors. Farmers now had electricity to draw water from a deep well as well as safe preservation of food for the farm family. Some farms had built small generating plants which provided limited power, but REA did more to reduce the work load and improve the quality of farm life.
(See Unit 7 Document Set 3: Modernizing the Farm for one woman's experience with REA).
Map Activity: Read the map key carefully. Can you determine the names of some of the co-ops? Are they still in business today? What part of the state had the most power lines? Were there any towns that did not have access to highline power at all? What was the most common type of generating plant? Why do we see hydroelectric generating plants in western Minnesota and not in North Dakota?