This map was printed for Robert Sayer of London in 1772. It measures 20 1/2 inches by 24 inches. Source: SHSND 970.03 G3263 1772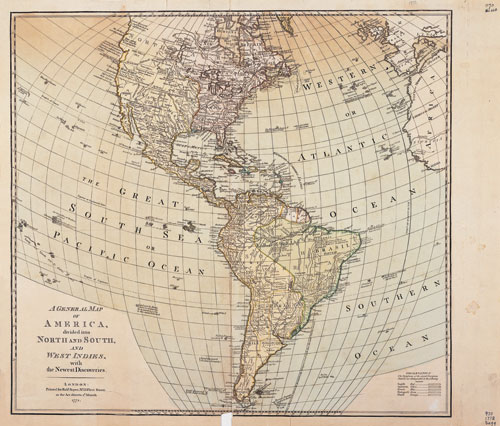 Sayer's Map of North & South America (1772)
The 1772 map offers more detail for the northern plains. The Red River of the North is identified, but it appears to flow from the east and the mapmaker notes "its course is little known." The Red River appears to be among the "sources of the Mississippi" which today we know to be incorrect. The "Nation of the Snake" is the name given to the Sioux or Lakota and Dakota peoples. The Mandan are mentioned in relation to a river, "which is supposed to be the same as the Missouri." Lake Ouinnipique offers us one of many different spellings of Winnipeg. The mapmaker did not refrain from drawing the River of the West, which was supposed to carry travelers from the plains to the Pacific Ocean, but it was only the dream of explorers.
Though this map indicates international interest in North and South America and suggests the potential for commercial exploitation, it is inaccurate by hundreds of miles. Mapmakers of this time period were still struggling to find the tools for locating longitude and latitude properly on a flat map.
Map Activity: Identify five items on this map that are accurate and five items that are inaccurate (based on present day knowledge).