George F. Cram was both engraver and publisher of this 1884 map showing the economic development of Dakota Territory. It measures 29 ½ by 17 ½ inches. Source: SHSND 978.402 C889r 1884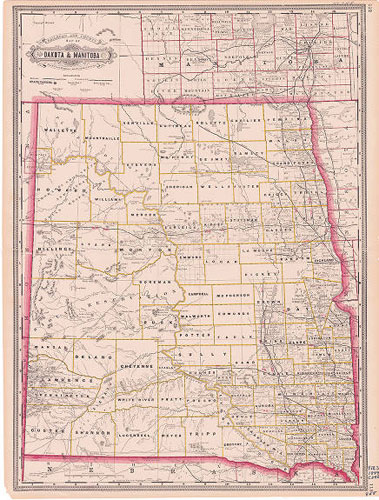 Railroad & County Map of Dakota (1884)
By 1884, the Northern Pacific Railroad (NPRR) had completed its route across the northern US. The Great Northern Railway, still known as the St. Paul, Minneapolis, and Manitoba Railroad has entered Dakota Territory, but not yet completed its route to Minot. The NPRR has begun to extend spur lines to towns off its main line. North Dakota has not yet reached its peak in miles of track.
Map Activity: How many counties does the northern part of Dakota Territory have? Do all the county names correspond to modern county names? Do some parts of the state have more railroad track and more counties than other parts of the state? Can you explain the discrepancy?
Return to the Statehood Map. How has railroad development changed since 1884?