This map was published in 1913 by the Railroad Commissioners under the supervision of State Engineer, Jay Bliss. Source: SHSND Railroad Commissioners 385 N864r 1913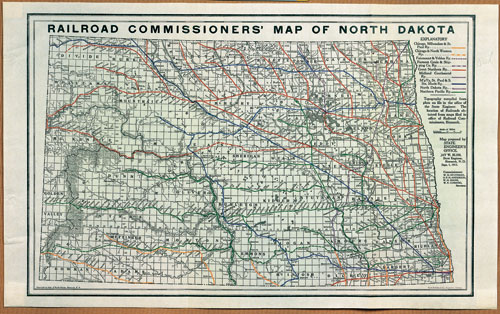 Railroad Commissioner's Map of North Dakota (1913)
In 1905, the state of North Dakota had more miles of track per resident than any other state in the Union. Every small town that could build a grain elevator was likely to have a spur line to one of the five major railroads that crossed the state. These spurs were used to haul grain out of the region and possibly cream, eggs, and other fresh products if the town was large enough. The train might also bring mail and possibly carry a few passengers.
In 1913, few towns in North Dakota were more than 50 miles from a rail line. In 1914, when World War I broke out in Europe, farmers and ranchers depended on these lines to take grain, cattle, and horses to markets where wartime need drove prices upward.
Map Activity: Can you estimate which railroad company had built the most miles of track by 1913? Can you verify your estimates through research? Did your town have a main line or a spur line? Does it still exist, and if so, do trains still run to or through your town?