This map was drawn by Paul Brodie in 1885 for the Commissioner of Indian Affairs, John D. C. Atkins. Source: SHSND 973.00497 U5813m 1885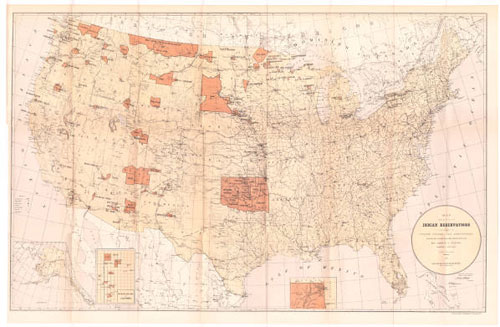 Map of Indian Reservations in the US (1885)
Brodie's map shows the size and shape of reservations of that time, most of which had been established by treaty between the United States Government (usually under the auspices of the Commissioner of Indian Affairs) and a particular tribe. The year 1885 might be described as the peak of the reservation era. By 1890, most Indian tribes had been subdued and placed on a reservation either in their traditional homelands or in an area new to them.
Though reservations were usually established by treaty which required the approval of the U. S. Senate, they could be closed or reduced in size by executive order of the President of the United States. Many reservations were also reduced under the provisions of the Dawes Act (General Allotment Act) which became law in 1887 and allowed the federal government to assign, or allot, parcels of land to individual Indian families and to open the remaining unallotted lands to settlers.
Map Activity: Compare the size and number of reservations in Dakota Territory with those of Montana, Colorado, Kansas, Nebraska, and Wyoming. Which states or territories have the most or largest reservations? Why did some states have more reservations than others?
Compare this map with a current North Dakota map. Have reservations in North Dakota changed in size since 1885?