John Reid was a New York mapmaker active in the late 18th century. This map measures 16 ½ inches by 20 ¾ inches. Source: SHSND 970.03R353g 1795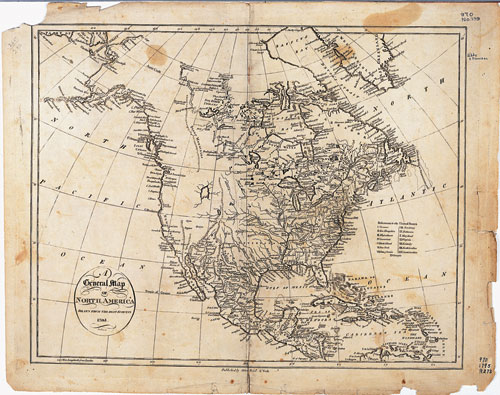 Reid's Map of Notrh America (1795)
John Reid's map begins to fill in some detail for the northern plains, though the proportions are distorted and many features are misplaced. In this map the Red River runs from west to east to Lake Winnipeg. The headwaters of the Missouri are properly located near the Rocky (Stony) Mountains, but the major tributaries are missing. The Louisiana Purchase is still 8 years in the future, so the map lacks definition of the territories claimed by the British, French, Spanish, or the United States. The Rocky Mountains are labeled the Stony Mountains on this map. Some geographers and mountain men also called the Rockies the Shining Mountains well into the 19th century.
Reid makes no attempt to identify any western peoples or villages. Reid marks the fledgling United States and its capital, Washington.
Map Activity: Locate the future capital of Minnesota along the Mississippi River. What is the modern name of the large lake west of the Stony Mountains? If you were intent on exploring the Missouri River and the northern Great Plains in 1795, would you find this map useful?