This map was compiled in 1871 by Edward H. Knight who used English, Canadian, and United States maps and surveys to identify the region of importance to the Northern Pacific Railroad (NPRR). Source: SHSND 385 K692m 1871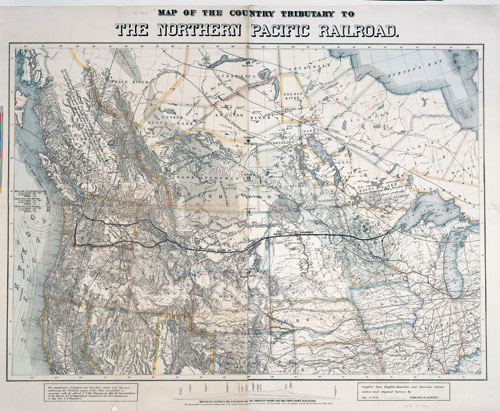 Northern Pacific Railroad Map (1871)
Knight's map was drawn before the NPRR had been completed. The dotted line is a rough plan for the route which would be adjusted by survey crews in the next couple of years.
In 1871, the rails reached Moorhead, Minnesota across the Red River from Fargo. Some track had been laid from the western end as well. Tracks reached the Missouri River at the small village of Edwinton (soon to become Bismarck) in June 1873. But in September 1873 the railroad's major financial backer, Jay Cooke and Company, shut down in part because of the excessive costs of constructing a railroad into the west. The closing of Cooke and Company led to a national economic panic. The NPRR did not resume construction until 1877 and then work proceeded slowly. The Missouri River presented a major obstacle for the company. For several years, ferries transported passengers and freight across the river, and in very cold winters when the ice was thick enough, rails were laid on the river's ice surface. A bridge was constructed across the Missouri in 1882.
Finally in September 1883 the tracks from east and west connected and the railroad's president, Henry Villard led hundreds of guests on four special trains to celebrate the completion. On the way west, he and his guests stopped at Bismarck, Dakota Territory, where he attended (for about 45 minutes) the dedication of the new territorial capitol.
Map Activity: Each mapmaker makes decisions about which natural and man-made features to include in a map. What did Knight choose to include on the map? What guided his decisions? What features on this map have been included in earlier maps of the region?