John Melish hired Benjamin Tanner to engrave this map which he then published in 1820. The map measures 17 1/2 by 21 ¼ inches. Source: SHSND 973.5 M523u 1821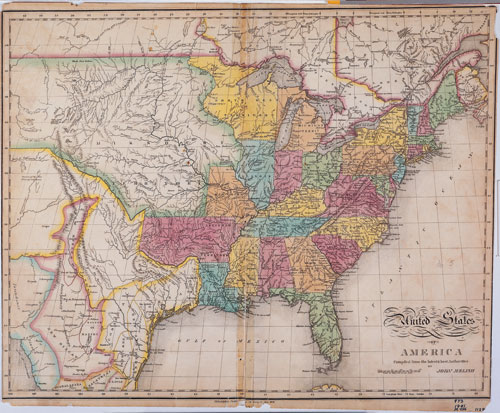 Melish's Map of the United States (1820)
Melish immigrated to the US in 1811 from Scotland. Although he had been in the textile business in Scotland, in the US he became a publisher of maps and was very influential in that field. His maps were hand colored which allowed the reader to immediately see the shapes of states and territories.
The nomenclature (naming of locations) is not modern. What we usually know as the Louisiana Purchase is called Missouri Territory on this map. The state of Missouri had been removed from the Louisiana Purchase by the Missouri Compromise (1820). Map reverts to earlier mapping of Red River of the North showing it flowing from the east with the Swan River as a major tributary. Moose River is today called the Mouse or Souris River. Note the road from Mandan villages to the Hudson Bay factories (or trading posts) near Brandon, Manitoba.
Map Activity: What can you learn from this map about the people who lived west of the Mississippi River in 1820? What features suggest commerce or trade between the people of the west and the people of the United States? Does Melish indicate the territories of the British and Spanish in North America on this map?