This map was made by surveyors who accompanied Lieutenant Colonel (Brevet Major General) George Armstrong Custer and troops of the 7th Cavalry on an expedition to the Black Hills in 1874. It measures 29 by 24 ½ inches. Source: SHSND 978.39 L945m 1874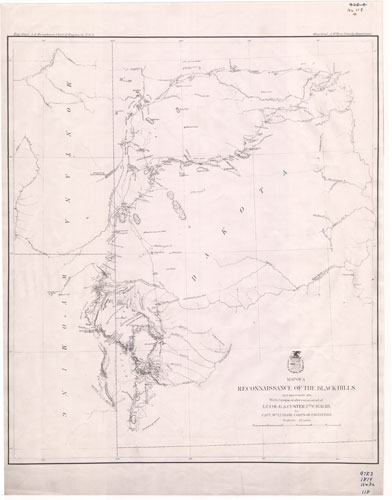 Custer's Reconnaissance of the Black Hills (1874)
One of the duties of the Army in the American West was to map the terrain. Soldiers accompanied surveyors for the railroads. In addition to protecting the survey crew, they sought information on topography and important natural resources. In 1874, Custer led troops out of Fort Abraham Lincoln on a two month expedition to the Black Hills in western Dakota Territory.
The Black Hills belonged to the Lakota according to the Fort Laramie Treaty of 1868 and only the Lakota knew the Hills well. The Army wanted to map the area in order to develop plans for a new military post in that region and to evaluate its resources.
There had been long-standing rumors of gold in the creeks of the Black Hills. At least two gold prospectors accompanied the expedition and soldiers spent some of their spare time panning for gold. They found gold - enough to keep them coming back for more and to encourage the five newspaper reporters who had joined the expedition to publish stories in their newspapers about the wealth of the Black Hills.
Custer's map (as it was called though it was made by surveyors and engineers in his command) includes information important to military activity. It notes the quality of soil, the availability of grass and good water, elevations of peaks. You can also find dates and locations of the soldiers' camps.
Though Custer reported finding gold in the Black Hills, the next year a five-month scientific expedition was sent to confirm Custer's report. This expedition, too, found gold, and in 1876, the gold rush to the Black Hills began.
Map Activity: Evaluate the information reported on this map. What would be its impact on future interest in the Black Hills? Are some areas of western Dakota Territory more valuable than others? Why?