This map was published by the Public Service Commission in 1994 in conjunction with the North Dakota Wheat Commission and the Upper Great Plains Transportation Institute. It measures 24 by 17 inches. Source: SHSND PSC 385 N864r 1994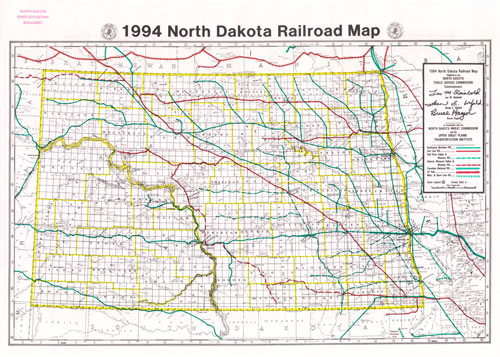 Railroad Map of North Dakota (1994)
This map shows how the major economic changes of the 20th century affected the state's railroads. Many lines have been abandoned and removed and others, tracks still in place, are no longer in use. Some spur lines are used only in late summer or fall to move grain crops to markets. Trucks have replaced trains as major transportation for small grains.
Map Activity: Compare this map to the 1913 Railroad Commissioners' Map. What parts of North Dakota no longer have railroad tracks? How does this compare with earlier maps of the state? Are the same areas underserved by rail, highways and power lines?
Do some research. How many passenger trains cross North Dakota each day? What towns are served by passenger trains? Are passenger trains still important to North Dakota?