This map was created by William C. Woodbridge of New York. The engraver was M. Atwood. The map is copyrighted in1845, but it reflects the political changes and military conquest that took place between 1848 and 1850. The map measures 12 by 18 ½ inches. Source: SHSND 973.6 A8873 1850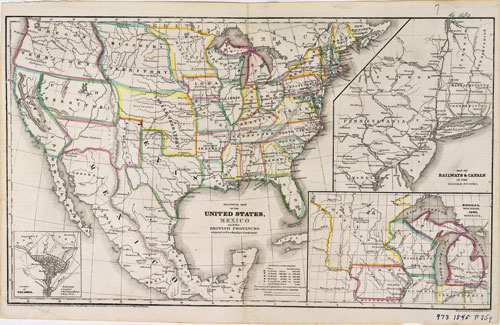 Political Map of the United States (1845)
This map is the first expressly political map in this collection. As a political map it shows the state boundaries, capitals and major cities, and territorial boundaries. Because its purpose is to show political boundaries, it contains fewer topographical details such as rivers, lakes, and mountain ranges.
However, the map does fill in portion of the unorganized territories of the west with some information about a few Indian tribes and some military forts. Note that the southern boundary of the United States does not have its current location. Dakota Territory has not yet been organized; what we know today as North Dakota is part of Missouri Territory on this map.
Map Activity: What historical features can help us date this map? In the portion of the map west of the Mississippi River, what political boundaries does the mapmaker emphasize?