North Dakota History: Journal of the Northern Plains, and its predecessors, has been published for more than one hundred years. Below are links to selected articles. Many back issues of the journal are available for purchase at the Museum Store.
A journal subscription is a membership benefit of the State Historical Society of North Dakota Foundation.
If you require a higher-quality image but the issue is unavailable from the Museum Store, or if you would like to request an article be added to this list, please contact EditorSHSND@nd.gov.
This Month's Featured Article: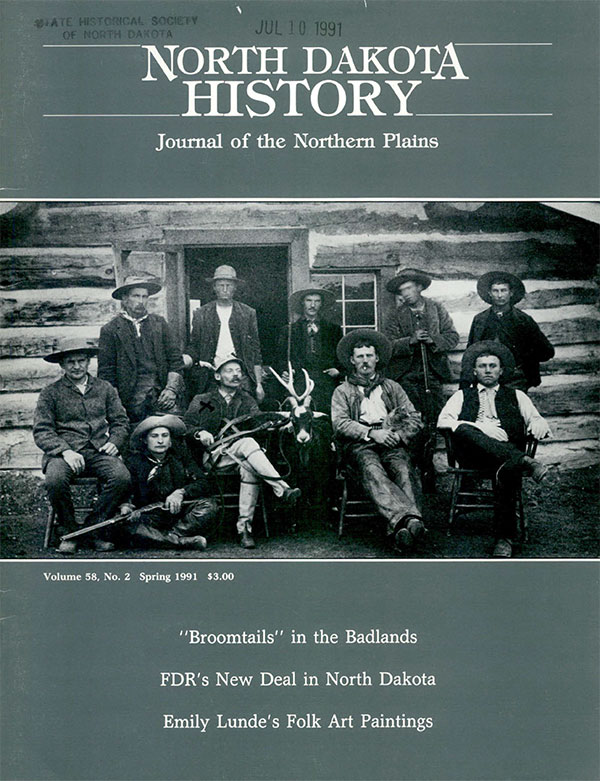 Badlands Broomtails: The Cultural History of Wild Horses in Western North Dakota PDF
North Dakota History, 58.2: 2-19
Featured Articles: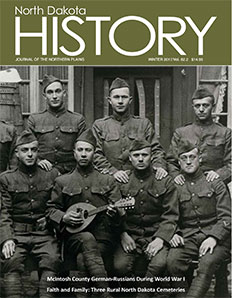 Are We Germans, or Russians, or Americans? The McIntosh County German-Russians During World War I PDF
North Dakota History, 82.2: 3-18
The Intersection of Faith and Family: Three Rural North Dakota Cemeteries PDF
North Dakota History, 82.2: 20-34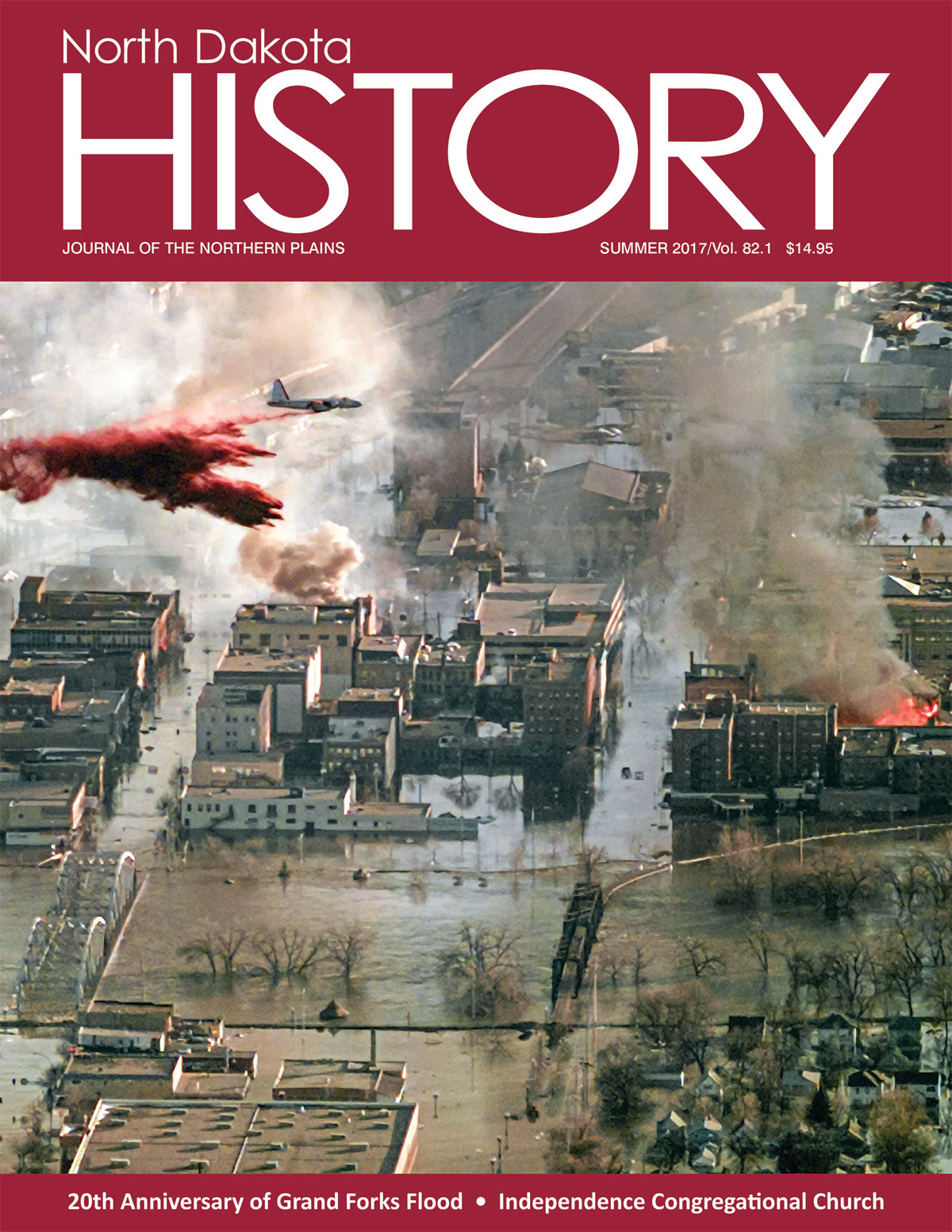 1997 Grand Forks Flood: When History Became Personal PDF
North Dakota History, 82.1: 18-33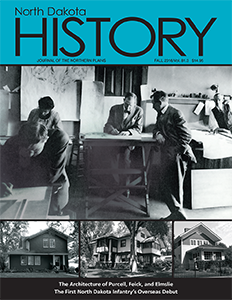 Prairie Vision: The Architecture of Purcell, Feick, and Elmslie in Bismarck PDF
North Dakota History, 81.3:16-31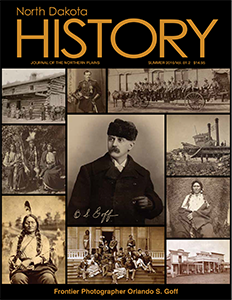 Chasing an Enigma: Frontier Photographer Orlando S. Goff
North Dakota History, 81.2: 3-26
FlipBook | PDF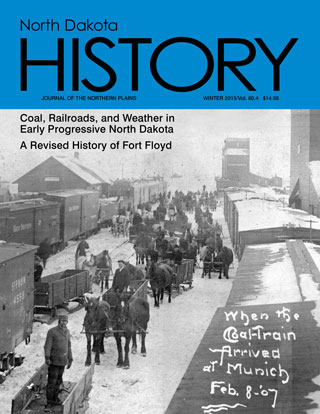 A Revised History of Fort Floyd PDF
North Dakota History, 80.4: 3-13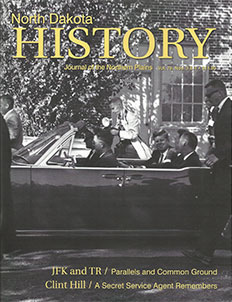 Fifty Years Later: One Moment That Changed Clint Hill's Life PDF
North Dakota History, 78.3&4: 22-34
* Winner of the 2017 Mountain-Plains Museums Association Publication Design Award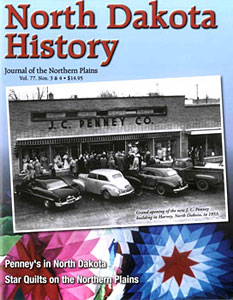 James Cash Penney and His North Dakota Stores PDF
North Dakota History, 77.3&4: 2-23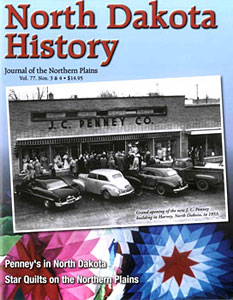 The Star Quilt on the Northern Plains: A Symbol of American Indian Identity PDF
North Dakota History, 77.3&4: 24-39

The "Plant Wizard of the North": Albert E. Yeager at North Dakota Agricultural College PDF
North Dakota History, 76.1&2: 34-45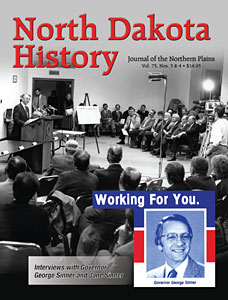 Service is the Most Gratifying Work": Governor George A. "Bud" Sinner PDF
North Dakota History, 75.3&4: 2-56

Love Sickness Is the Worst Sickness: The Letters of John C. Boren to His Wife, Mary Jane Woods Pennell Boren, June-July 1896 PDF
North Dakota History, 75.1&2: 2-45


My Experiences as a Member of President Lincoln's Bodyguard, 1863-65 PDF
North Dakota History, 74.3&4: 6-16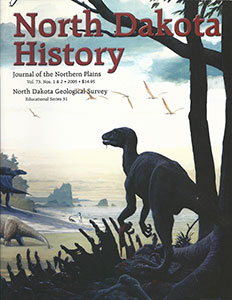 Dinosaurs, Sharks, and Wooly Mammoths: Glimpses of Life in North Dakota's Prehistoric Past PDF
North Dakota History, 73.1&2:2-5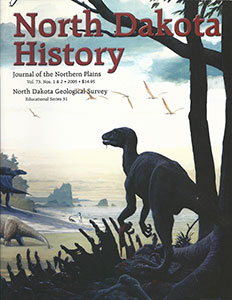 North Dakota's Cretaceous Underwater World PDF
North Dakota History, 73.1 & 2: 8-15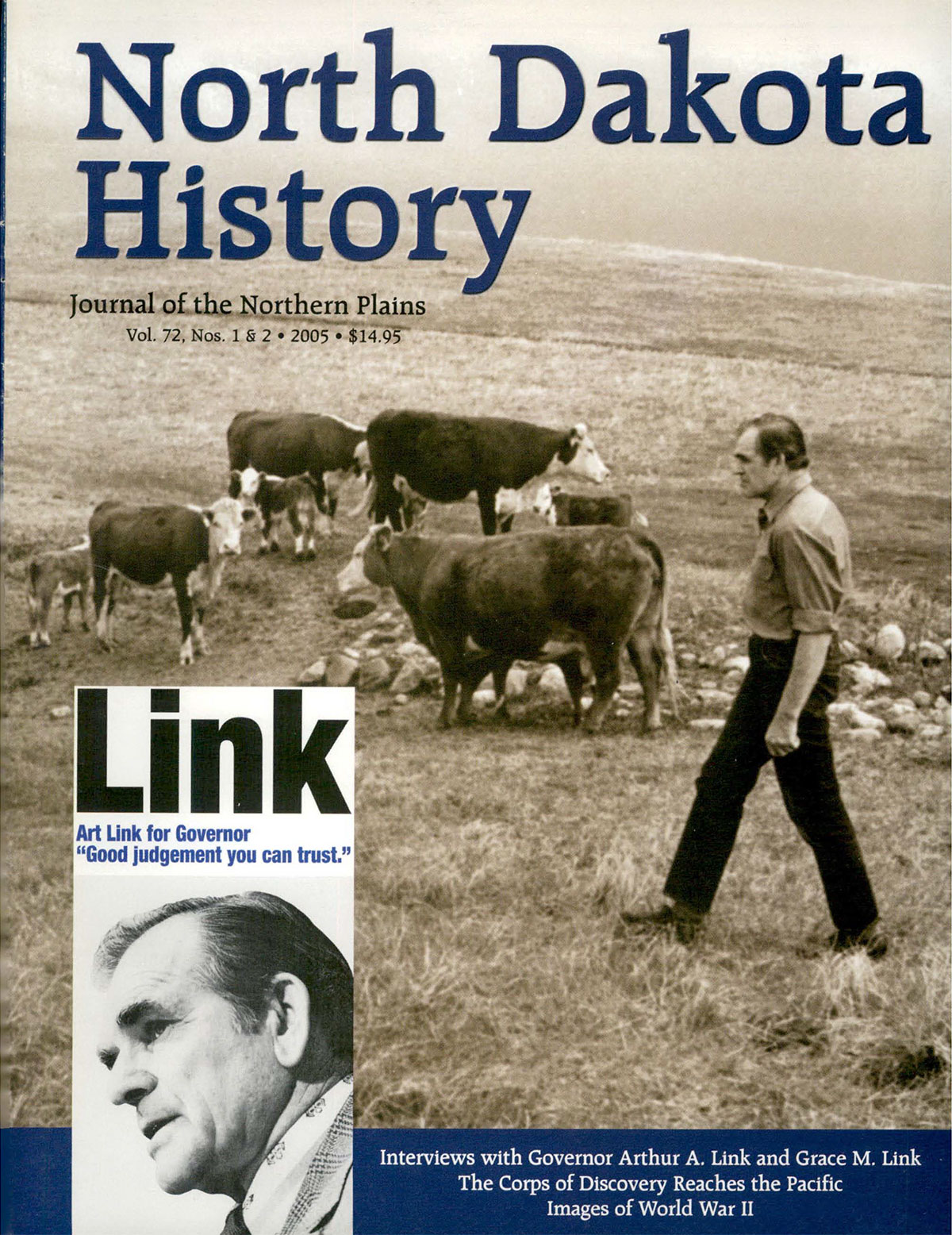 Guardian of the Land: Arthur A. Link PDF
North Dakota History, 72.1&2:2-8 and 37-46

The Builder: Interview with William L. Guy
North Dakota History, 71.1 & 2: 2-49 24.9MB pdf

Dakota Doughboys in the Desert: The Experiences of a North Dakota National Guard Company during the Mexican Border Campaign of 1916-1917 PDF
North Dakota History, 71.1&2: 50-64


The Winter of Diplomacy PDF
North Dakota History, 71.1&2: 65-71


"To Be Examples to...Their People": Standing Rock Sioux Students at Hampton Institute, 1878-1923 (Part Two) PDF
North Dakota History, 68.3: 20-42


Barney Keogh: A North Dakota P.O.W. in World War II Germany PDF
North Dakota History, 67.4: 2-19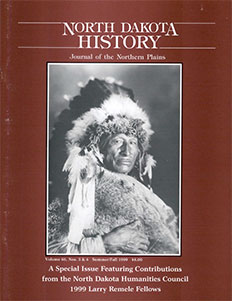 Prairie Spass: The Folk Humor of North Dakota's Germans From Russia PDF
North Dakota History, 66.3&4: 50-60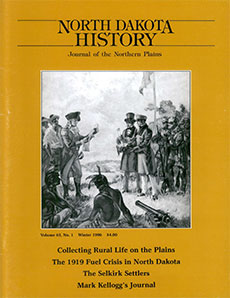 "To Prevent a Calamity Which Is Imminent": Governor Frazier and the Fuel Crisis of 1919 PDF
North Dakota History, 63.1: 6-20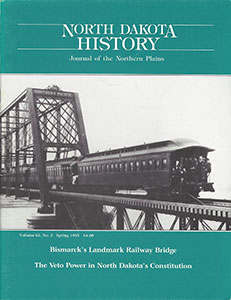 Troubadours from the North PDF
North Dakota History, 62.3: 12-16
The Northern Pacific Railway Bridge at Bismarck
North Dakota History, 62.2: 2-19
FlipBook | PDF

North Dakota Senator Asle J. Gronna and the Isolationists, 1915-1920 PDF
North Dakota History, 60.4: 13-33


"Adding Picture to Sound": Early Television in North Dakota
North Dakota History, 60.3: 2-23 (1993) 12MB pdf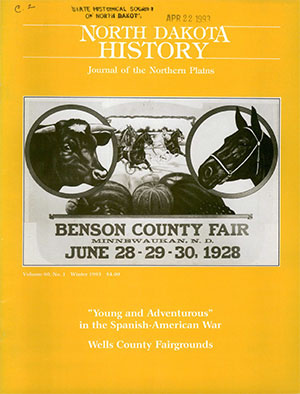 Young and Adventurous: The Journal of a North Dakota Volunteer in the Spanish-American War, 1898-1899 PDF
North Dakota History, 60.1:2-21

Memoir of a Country Schoolteacher: Dolly Holliday Meets the Ethnic West, 1919-1920 PDF
North Dakota History, 59.2: 30-45


"Queen of the Lecture Platform": Kate Richards O'Hare and North Dakota Politics, 1917-1921 PDF
North Dakota History, 58.4: 2-19


Bismarck to Spokane Via Northwest Airlines in 1936: A Passenger's Memoir PDF
North Dakota History, 57.4

Taking Pictures of the History of Today: The Federal Government Photographs North Dakota, 1936-1942 PDF
North Dakota History, 57.3: 2-13

"All well and hard at work" The Harris Family Letters from Dakota Territory, 1882-1888 PDF
North Dakota History, 57.2

"A Mighty Influence": Library Philanthropy in North Dakota During the Carnegie Era PDF
North Dakota History, 57.2:14-23

Folk Drama on the Great Plains: The Mock Wedding in Canada and the United States PDF
North Dakota History, 56.4: 16-23

Sister Rosalia's Lace PDF
North Dakota History, 56.4: 42

Farm Boys, Crackerbox Gyms, and Hometown Referees: Coaching Basketball at Hurdsfield, North Dakota, in 1953–1954 PDF
North Dakota History, 55.4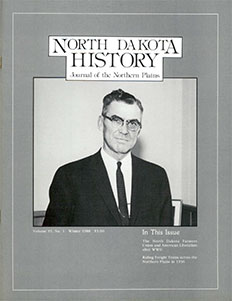 Riding Freights to Jamestown in 1936: A Brief Memoir PDF
North Dakota History, 55.1: 14-24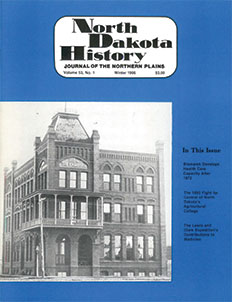 The Development of Health Care Systems in Bismarck, 1872-1937 PDF
North Dakota History, 57.3: 3-11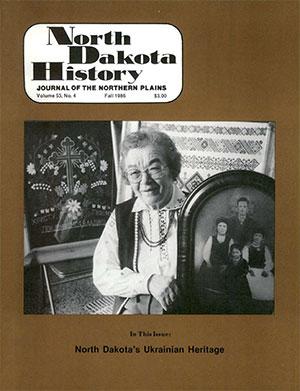 North Dakota's Ukrainian Heritage PDF
North Dakota History, 53.4

Women's History from Women's Sources: Three Examples from Northern Dakota PDF
North Dakota History, 52.2: 2-9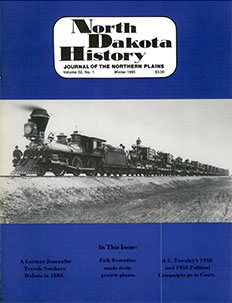 Herbal Treatments Using Plants Found on the Northern Plains: Pioneer Remedies and Folk Medicines PDF
North Dakota History, 52.1: 13-23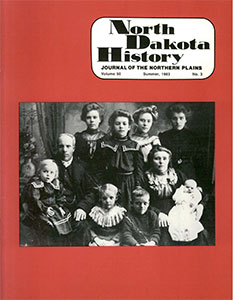 C. C. Becker: McIntosh County German-Russian Pioneer PDF
North Dakota History, 50.3: 4-13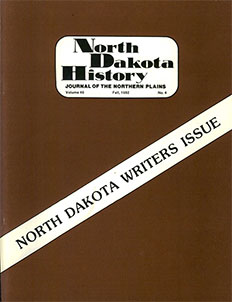 Era Bell Thompson: A North Dakota Daughter PDF
North Dakota History, 49.4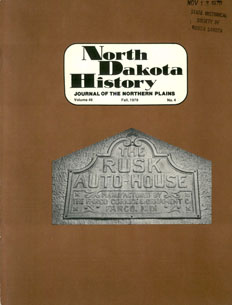 The Cowboy and the Law PDF
North Dakota History, 46.4: 20-29

They Had A Wonderful Time: The Homesteading Letters of Anna and Ethel Erickson PDF
North Dakota History, 45.4: 4-31

Dance Band on the Northern Plains: Bob Calamé and His Music in North Dakota, 1949-1957 PDF
North Dakota History, 46.3: 4-14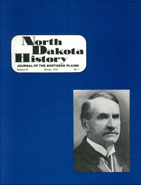 Growing up on Bald Hill Creek PDF
North Dakota History, 45.1: 14-20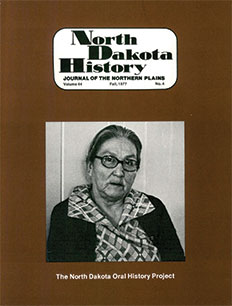 North Dakota Oral History Project Issue #2 - The Interviews PDF
North Dakota History, 44.4: 12, 15, 21, 26, 28-29, 32, 36, 39, 48, 52-53, 58, 61, 64, 70-71, 75, 79, 82, 86-87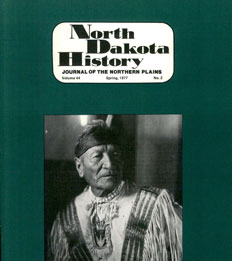 Some of Those Years PDF
North Dakota History, 44.2:22-31

Frontier Housing in North Dakota PDF
North Dakota History, 42.4: 4-15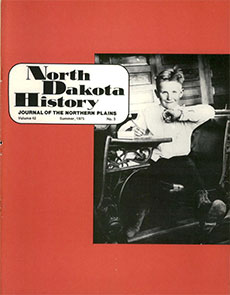 Dorry's Diary: Enderlin, North Dakota, in 1919 PDF
North Dakota History, 42.3: 18-25

The Enchanted Years on the Prairies PDF
North Dakota History, 40.4: 4-19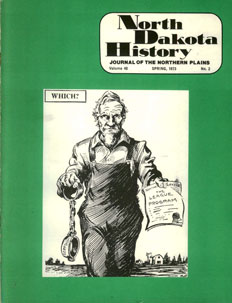 Lewis and Clark on the Upper Missouri PDF
North Dakota History, 40.2: 34-37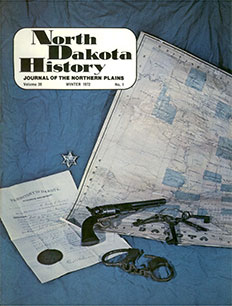 The Buffalo Bone Commerce On The Northern Plains PDF
North Dakota History, 39.1

Referendum on War? The General Election of 1916 in North Dakota PDF
North Dakota History, 36.4: 296-335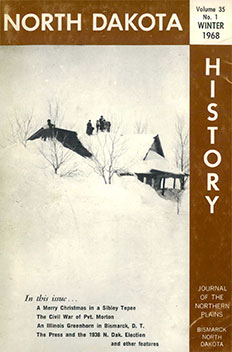 A Merry Christmas in a Sibley Tepee PDF
North Dakota History, 35.1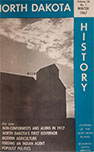 Public Opinion Toward Non-Conformists and Aliens During 1917, as Shown by The Fargo Forum PDF
North Dakota History, 34.1: 4-29


Sully's Expedition of 1864 featuring the Killdeer Mountain and Badlands Battles
North Dakota History, 31.1: 25-77 16MB pdf

The Peace Issue in the General Election of 1914 PDF
North Dakota History, 30.2&3: 97-100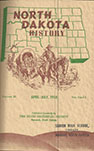 The Diary and Letters of Dr. James M. DeWolf, Acting Assistant Surgeon, U.S. Army; His Record of the Sioux Expedition of 1876 as Kept Until His Death PDF
North Dakota History, 25.2&3: 33-81

Reminiscences of a Pioneer Mother PDF
North Dakota History, 24.3: 128-138

The Fort Keogh to Bismarck Stage Route PDF
North Dakota History, 21.3: 91-125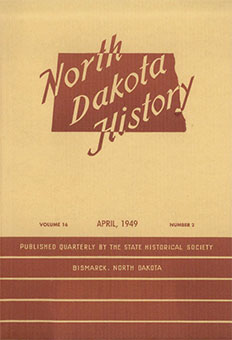 Recollections and Reminiscences of Graham's Island: Life on the Island PDF
North Dakota History, 16.2: 119-124

The Dakota Indian Victory-Dance PDF
North Dakota History, 9.3: 167-178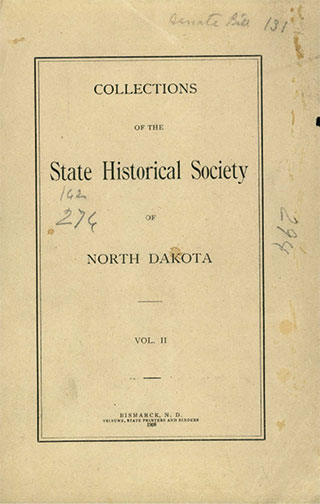 The Story of Corn Silk — A Mandan Legend PDF
North Dakota History, 2: 494-497