Territorial Governors | Back to North Dakota Governors
GEORGE A. SINNER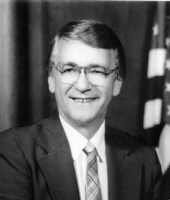 Twenty-ninth Governor
Residence: Casselton, Cass County
Years Served: 1985-1992
Date of Inauguration: January 1, 1985
Age at Inauguration: 56
Politics: Democrat
Born: Fargo, North Dakota - May 29, 1928
Died: Fargo, North Dakota - March 9, 2018
Political Background:
1962-1966: North Dakota State Senate
1972: North Dakota Constitutional Convention
1982: North Dakota State House of Representatives
1985-1992: Governor of North Dakota
George A. Sinner was born in Fargo and raised in Casselton, a town which served as home to several other North Dakota governors. In 1950 Sinner received a degree in philosophy from St. John's University in Minnesota. From 1950 to 1951 he served in the U.S. Air Force. He has been a partner in the Sinner Brothers and Bresnahan diversified farm at Casselton since 1952. During his career as a political leader and farmer, Sinner has served as a member of various professional, educational, and civic boards and groups, including the North Dakota Board of Higher Education, North Dakota Public Broadcasting Council, Greater North Dakota Association Board, Red River Valley Sugarbeet Growers Association Board (served as president, 1975-1979), North Dakota Wheat Growers Association, North Dakota Stockmen's Association, American Soybean Association, North Dakota Farmers' Union, and the North Dakota Farm Bureau.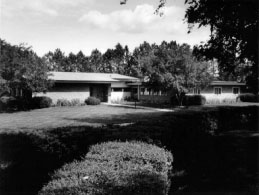 The current governor's residence, constructed in
1960, is located on the southwest corner of the
capitol grounds.
During Sinner's administration there was a farm crisis caused by the worst droughts since the Great Depression of the 1930s. North Dakota observed its statehood centennial in 1989. There was some reorganization in state government, particularly in the Economic Development Commission. In 1991 North Dakota's National Guard was called up to serve in the Persian Gulf during Operation Desert Storm. Governor George Sinner served as co-chairman of the United States-Canada Task Force of the National Governor's Association (1986-1987) and chairman of the Association's Committee on Agriculture and Rural Development.