State Governors | Back to North Dakota Governors
Previous | Next
WILLIAM A. JAYNE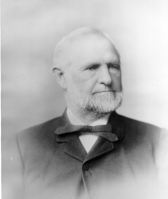 First Territorial Governor
Residence: Springfield, Illinois
Years Served: 1861-1863
Date of Inauguration: May 27, 1861
Age at Inauguration: 34
Politics: Republican (former Whig)
Born: Springfield, Illinois - October 8, 1826
Died: Springfield, Illinois - March 21, 1916
Political Background:
1859-1861: Mayor of Springfield, Illinois
1860: Illinois State Senate
1861-1863: Governor of Dakota Territory
1863-1864: United States House of Representatives (Illinois)
1865-1880: Mayor of Springfield, Illinois
William A. Jayne was a medical doctor and served as Abraham Lincoln's personal physician in Springfield, Illinois. He also served as mayor of Springfield from 1859 to 1861. He became a member of the Illinois State Senate in 1860, and resigned in 1861 to accept the appointment of governor of Dakota Territory from President Lincoln.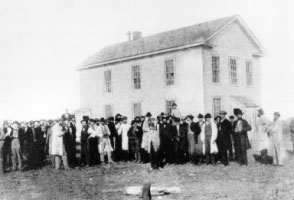 First Territorial capitol in present-day Yankton, South Dakota.
After resigning as territorial governor, Dr. Jayne returned to Illinois, serving as a congressional representative for a year. He returned to his medical practice in Springfield and served three more terms as mayor of that city.
Present-day Yankton, South Dakota, served as the first capitol of Dakota Territory. The first governor's residence was a small log cabin.
Governor Jayne was from Illinois. He served as President Lincoln's personal physician.