State Governors | Back to North Dakota Governors
NEWTON EDMUNDS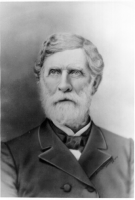 Second Territorial Governor
Residence: Yankton, Dakota Territory
Years Served: 1863-1866
Date of Inauguration: November 2, 1863
Age at Inauguration: 44
Politics: Republican
Born: May 31, 1819 - Hartland, New York
Died: February 13, 1908 - Yankton, South Dakota
Political Background:
1863-1866: Governor of Dakota Territory
Governor Edmunds grew up in New York, and in 1832 his family moved to Michigan. Edmunds came to Yankton in 1861 where he became chief clerk in the surveyor general's office.
Edmunds was notified of his appointment as territorial governor by President Lincoln on October 17, 1863. He took the oath of office on November 2, 1863. His most important contribution was participating in the 1865 and 1866 negotiation of treaties with the Sioux and other tribal groups along the Missouri. The territorial governor also served as superintendent of Indian affairs for Dakota Territory. Upon his return from a peace mission on August 8, 1866, he was replaced as governor, as a result of political quarreling between President Andrew Johnson and radical Republicans.
Edmunds continued to live in Yankton where he was active in civic life. He helped to organize the first church, took an active part in building the first school, and also helped in the establishment of an academy. He was head of a banking firm which he organized in 1869. His interest in political matters continued and he was a member of the Territorial Council in 1879.
Governor Edmunds participated in the negotiation of Indian treaties.