Know Before You Go
To allow for proper social distancing, sites will operate at reduced capacity. Touchable exhibit components will remain closed, and site tours may be limited for visitor and staff safety. The agency would also like to remind visitors to follow the CDC's recommendations on social distancing and personal hygiene while visiting state historic sites. See our guidelines for visiting.
Power of the People: Rural Electric Cooperatives in North Dakota
Produced in cooperation with Touchstone Energy Cooperatives, this exhibit tells the story of how pole by pole, line by line, meter by meter, electricity came to rural families across North Dakota in the 1940s.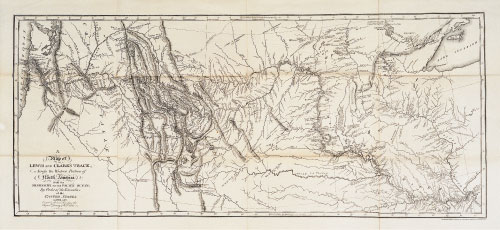 Map of Lewis and Clark Expedition | find more information on
Digital Horizons
Permanent exhibits at the Missouri-Yellowstone Confluence Interpretive Center explore the geography and geology of the area, its prehistoric life, and the impact of people arriving by Trails, Tracks, Rivers and Roads, which is also the name of the exhibits area. Featured in the 2,000-square-foot permanent gallery will be the Lewis and Clark journey, the fur trade era, Fort Buford, and the development of the modern-day irrigation and energy industries. There are more than 200 artifacts in the permanent gallery, including a frontier army transport wagon, a steamboat pilot's navigating wheel, and a 1904 Model A Cadillac.
See also Fort Buford State Historic Site - Exhibits.

Follow Fort Buford State Historic Site/Missouri-Yellowstone Confluence Interpretive Center on Facebook!