Know Before You Go
To allow for proper social distancing, sites will operate at reduced capacity. Touchable exhibit components will remain closed, and site tours may be limited for visitor and staff safety. The agency would also like to remind visitors to follow the CDC's recommendations on social distancing and personal hygiene while visiting state historic sites. See our guidelines for visiting.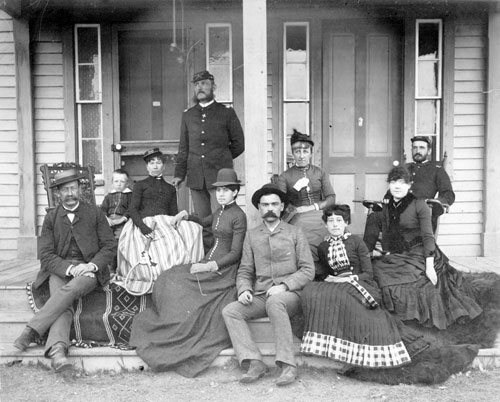 0030-I-01 Thad Turner Group photo at Fort Buford DT 1884
Life by the Bugle
This permanent exhibit in the Field Officer's Quarters explores the life of a frontier military officer at Fort Buford and also examines the role of women at an army post. Several objects original to Fort Buford's days as a military post from 1866 to 1895 are displayed. The Officer of the Guard Building, also at the site, features an exhibit of objects from the SHSND collections and period reproductions.
See also Missouri-Yellowstone Confluence Interpretive Center - Exhibits.

Follow Fort Buford State Historic Site/Missouri-Yellowstone Confluence Interpretive Center on Facebook!