The role of the army at Fort Buford for the next fifteen years was to protect survey and construction crews of the Great Northern Railway, to prevent Indians and Métis from crossing the international boundary from Canada, and to police the area against outlaws. By 1895 the Fort Buford buildings were so dilapidated that repairs were deemed too expensive to undertake. Because the fort was no longer necessary for the mission of the army, it was abandoned on October 1, 1895.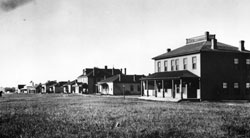 Currently, three original buildings stand at Fort Buford State Historic Site: the stone powder magazine, wood-frame officers' quarters, and a wood-frame officer of the guard building. Inside the officers' quarters is a museum exhibit and interpretive center featuring artifacts and displays about the frontier military and Fort Buford's role in the history of Dakota Territory. A modern restroom and office building and the site supervisor's home are located across the road from the museum. Although the original guardhouse is gone, its "ghost" remains. A metal framework outlines the building showing its original size and shape, while preserving the original foundation.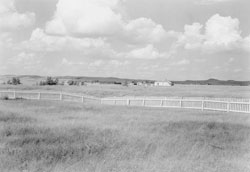 Southwest of the museum is the fort cemetery. After the fort was abandoned, all military personnel buried at Fort Buford were disinterred and removed to the national cemetery at the Little Bighorn Battlefield National Monument in Montana. Reconstructed wooden headboards mark the graves where soldiers were once interred. As far as it is known, the graves marked by civilian headstones still contain the bodies of those interred there.
Commanding a historic northern plains crossroads, Fort Buford State Historic Site offers history, beauty, and recreation. At the site a museum in an original military building tells the fort's story; a nearby military cemetery and a stone powder magazine emphasize the fort's history, enhanced by interpretive exhibits.
The confluence area adds a wealth of attractions. The Fort Buford site includes a picnic area, campground, and every spring a large paddle-fishing operation attracts hundreds of sportsmen. In July of every year the 6th Infantry reenactment group holds its annual Fort Buford Sixth Infantry Frontier Military Encampment. A few miles away, Fort Union Trading Post National Historic Site interprets the fur trade that made the confluence a nineteenth-century crossroads and a historic, exciting place to be! Fort Buford is located just off Highway 23 about twenty-five miles southwest of Williston, Williams County.

Follow Fort Buford State Historic Site/Missouri-Yellowstone Confluence Interpretive Center on Facebook!