State Governors | Back to North Dakota Governors
ANDREW JACKSON FAULK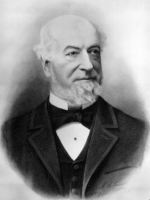 Third Territorial Governor
Residence: Pennsylvania
Years Served: 1866-1869
Date of Inauguration: September 5, 1866
Age at Inauguration: 51
Politics: Republican (former Democrat)
Born: Milford, Pennsylvania - November 26, 1814
Died: Yankton, South Dakota - September 4,1898
Political Background:
1866-1869: Governor of Dakota Territory
1869: Mayor of Yankton
Andrew Jackson Faulk trained as a newspaper man, studied law, and was a leader in Democratic politics. During his administration Governor Faulk promoted Euro-American settlement in Dakota Territory, and urged the opening of Indian-owned lands in the Black Hills to Euro-American settlers.
After serving as territorial governor, Faulk was appointed clerk of District Court of Dakota Territory. He was also appointed trustee of the Dakota Asylum for the Insane.
Faulk promoted reneging on Indian treaties so that Euro-Americans could settle on Indian-owned land.