State Governors | Back to North Dakota Governors
JOHN A. BURBANK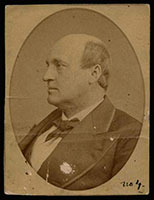 John A Burbank
SHSND A1592-0001
Fourth Territorial Governor
Residence: Indiana
Years Served: 1869-1873
Date of Inauguration: May 10, 1869
Age at Inauguration: 41
Politics: Republican
Born: Centerville, Indiana - July 23, 1827
Died: Richmond, Indiana - December 17, 1905
Political Background:
1853: Mayor and Postmaster at Falls City, Nebraska
1869-1873: Governor of Dakota Territory
John A. Burbank began in the merchandising business with his father in Indiana. He was a rather unpopular governor, partly because of his long absences from Dakota. His administration was a time of turmoil as more and more Euro-American settlers began pouring into the area and Native Americans were forced onto reservations. Railroads entered the state at Fargo and were built as far as the Missouri during Burbank's administration.
After serving as territorial governor, Burbank served as United States Post Office Inspector at Richmond, Indiana.
The Northern Pacific Railroad entered Dakota Territory at Fargo during Burbank's administration. The tracks reached Bismarck by 1873.