State Governors | Back to North Dakota Governors
JOHN L. PENNINGTON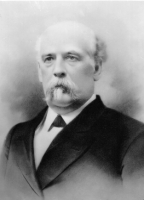 Fifth Territorial Governor
Residence: Lee County, Alabama
Years Served: 1874-1878
Date of Inauguration: January 1, 1874
Age at Inauguration: 45
Politics: Republican
Born: New Berne, North Carolina - May, 1829
Died: Anniston, Alabama - July 9, 1900
Political Background:
1868-1873: Alabama State Senate
1874-1878: Governor of Dakota Territory
Governor Pennington received his education in common schools at New Berne, North Carolina. There is no evidence that he continued his formal education at a college or university. He spent most of his adult life in the newspaper publishing business. During the Civil War, Pennington remained in the South, but he supported the Union.
The discovery of gold in the Black Hills was one of the major events of Pennington's governorship. The Black Hills - sacred ground to the Sioux - were supposed to be off-limits to Euro- Americans. Once news of the gold discovery became known, settlers rushed to the area in disregard of the Fort Laramie Treaty that promised the Black Hills to the Sioux.
Severe infestations of grasshoppers ruined crops in Dakota Territory during the summers of 1874, 1875, and 1876. Governor Pennington refused to believe that the grasshopper menace was a bad as was reported. He stated that financial aid would "demoralize the people and make mendicancy honorable among some classes."
In 1878 President Rutherford B. Hayes denied Pennington's reappointment to the office of governor. Pennington became collector of internal revenue for Dakota Territory. He established the Weekly Telegram newspaper at Yankton in 1885.
Lt. Colonel George A. Custer's Black Hills Expedition of 1874 touched off a gold rush to the Black Hills, even though Euro-American settlement of this area was strictly prohibited by the Fort Laramie Treaty of 1868.