State Governors | Back to North Dakota Governors
WILLIAM A. HOWARD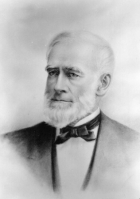 Sixth Territorial Governor
Residence: Detroit, Michigan
Years Served: 1878-1880
Date of Inauguration: April 13, 1878
Age at Inauguration: 64
Politics: Republican (former Whig)
Born: Hinesberg, Vermont - April 18, 1813
Died: Washington, D.C. - April 10, 1880
Political Background:
1854-1862: United States House of Representatives (Michigan)
1870: Appointed minister to China but poor health prohibited his acceptance
1878-1880: Governor of Dakota Territory
William Alanson Howard trained as a cabinetmaker at Albion, New York, while going to school. After graduation from Middlebury Academy in Vermont, he taught for one year. He relocated to Michigan, was admitted to the bar in 1842, and practiced law in Detroit for twelve years. He was elected to Congress, and became a ranking member of the House Ways and Means Committee.
Howard suffered poor health all his life. He accepted the appointment of governor in hopes of improving his health. In the winter of 1879 he became very ill, and died in April 1880, of neuralgia of the heart and complications from lung trouble. He was the first territorial governor to die in office.
During his administration, Governor Howard was particularly concerned with charitable and penal institutions.
Howard was an attorney, and served in Congress prior to his appointment as Territorial Governor. He died in office.