State Governors | Back to North Dakota Governors
NEHEMIAH G. ORDWAY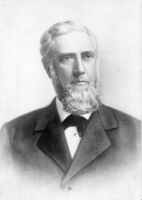 Seventh Territorial Governor
Residence: New Hampshire
Years Served: 1880-1884
Date of Inauguration: June 24, 1880
Age at Inauguration: 51
Politics: Republican
Born: Warner, New Hampshire - November 10, 1828
Died: Boston, Massachusetts - July 3, 1907
Political Background:
1863, 1865, 1869, 1871: Sergeant at Arms, United States House of Representatives
1875-1880: Several terms in New Hampshire Legislature
1880-1884: Governor of Dakota Territory
Governor Ordway's administration was highlighted by tremendous growth in population, towns, counties, and railroads. From 1879 to 1884 the population more than doubled as Euro-American settlers rushed into Dakota Territory.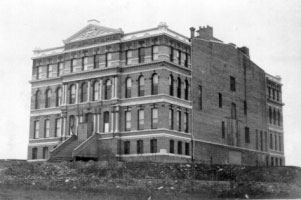 The new territorial capitol in Bismarck was under construction
by 1883. This building was a scaled back version of a more
stately plan. A south wing was added in 1893 and a north
addition was completed in 1903.
Ordway's administration was plagued by favoritism and corrupt practices. The territorial capitol was moved from Yankton to Bismarck during Ordway's terms of office.
In 1884 a grand jury indicted Ordway for corrupt practices in office. He was removed from office and President Chester A. Arthur appointed Chicago writer Gilbert A. Pierce the next Dakota Territory governor. Ordway became a special agent for the Northern Pacific Railroad, in charge of its Washington lobby.