State Governors | Back to North Dakota Governors
GILBERT A. PIERCE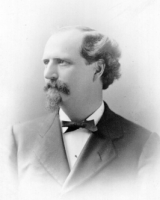 Eighth Territorial Governor
Residence: Chicago, Illinois
Years Served: 1884-1886
Date of Inauguration: July 25, 1884
Age at Inauguration: 45
Politics: Republican
Born: East Otto, New York - January 11, 1839
Died: Chicago, Illinois - February 15, 1901
Political Background:
1868: Indiana State Legislature
1869-1872: Assistant Clerk of United States Senate
1884-1886: Governor of Dakota Territory
1889-1891: United States Senate
1893: Minister to Portugal
Governor Gilbert Ashville Pierce served in the Civil War, practiced law for three years in Indiana, and entered the field of journalism. He served as editor of the Chicago Inter Ocean, and was editor of the Chicago News when he was appointed Dakota Territory governor by President Chester A. Arthur. In 1891 he returned to newspaper work, purchasing a half interest in the Minneapolis Tribune. He moved on to Chicago's Post Times and Herald in 1893.
Governor Pierce vetoed a bill to move the territorial capitol away from Bismarck. He also vetoed a measure that would have given women the power of the vote.
Governor Pierce was a professional journalist. He vetoed a women's suffrage bill for Dakota Territory.