State Governors | Back to North Dakota Governors
LOUIS K. CHURCH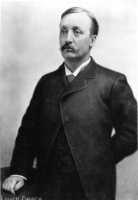 Ninth Territorial Governor
Residence: Huron, Dakota Territory
Years Served: 1887-1889
Date of Inauguration: February 17, 1887
Age at Inauguration: 40
Politics: Democrat
Born: Brooklyn, New York - December 11, 1846
Died: Juneau, Alaska - November 25, 1897
Political Background:
1882-1883: New York State Legislature
1887-1889: Governor of Dakota Territory
Louis Kossuth Church was the first Democratic governor of Dakota Territory. His political career began in 1882, in the New York state legislature, where he and Republican Theodore Roosevelt became friends and allies. Together these two young legislators helped then New York Governor Grover Cleveland defeat the forces of Tammany Hall.
When Cleveland became president, he remembered Church's political assistance. He appointed Church judge of the Third District of Dakota Territory in 1885. Two years later, he appointed Church governor of Dakota Territory. Church remained in office until Cleveland was succeeded by Harrison as president.
As New York state legislators, Louis Church and Theodore Roosevelt helped (then) Governor Grover Cleveland defeat Tammany Hall.