State Governors | Back to North Dakota Governors
ARTHUR C. MELLETTE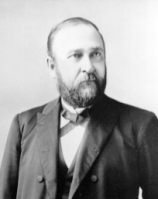 Tenth Territorial Governor
Residence: Watertown, Dakota Territory
Years Served: 1889
Date of Inauguration: March 22, 1889
Age at Inauguration: 45
Politics: Republican
Born: Henry County, Indiana (near Muncie) - June 23, 1843
Died: Pittsburgh, Kansas - May 25, 1896
Political Background:
1872-1874: Indiana Legislature
1883: Constitutional Convention Delegate
1889: Governor of Dakota Territory
1889-1893: Governor of South Dakota
Governor Mellette came to Dakota of his own accord, rather than as a presidential appointment. He served in the Civil War, then studied and practiced law in Indiana. Mellette came to Springfield, Dakota Territory, in an attempt to improve his wife's poor health. From 1878 to 1883 he served as register of the Land Office at Springfield and then Watertown.
Mellette served as governor seven months before statehood. When the territory split into North Dakota and South Dakota, he became the first governor of South Dakota, and John Miller became governor of North Dakota.
Arthur Calvin Mellette was the last Territorial governor. When statehood split the Territory, Mellette became the first governor of South Dakota.