Rails, Ranching and Riches: The Marquis de Mores in Dakota
Permanent Exhibit
This exhibit at the site's interpretive center tells the story of the Marquis de Mores (1858-1896), a French nobleman and entrepreneur who, from 1883 to 1886, ran a cutting-edge meatpacking plant and other businesses in the town he named after his wife, Medora. His family's 26-room summer home includes thousands of original artifacts. Featured is a smaller-scale refrigerator car, along with the Deadwood, an original stagecoach from the Marquis's Deadwood and Medora Stage and Forwarding Company.
Hard Work and a Good Deal: The Civilian Conservation Corps and Works Projects Administration in North Dakota
Temporary Exhibit
The Civilian Conservation Corps was created in 1933 as one of many federal programs designed to alleviate the effects of the Great Depression. A total of 31,764 North Dakota enrollees participated. In this exhibit, peruse objects and photographs from CCC-era North Dakota.
Chateau de Mores State Historic Site Orientation Film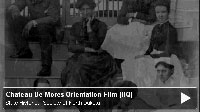 Take this opportunity to get a brief glimpse of the historic 26-room hunting cabin that is now known as the Chateau de Mores. Built on a bluff overlooking the town of Medora, find out more about why it was built and the grand visions that the Marquis de Mores had for Dakota Territory.

Follow Chateau de Mores State Historic Site on Facebook!