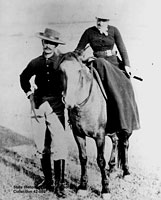 The Marquis' most striking legacy is the rustic but aristocratic 26-room home that his neighbors dubbed "the chateau." Overlooking his town and enterprises, the frame home was ready for Medora Von Hoffman's arrival in spring 1884. Rich furnishings, oriental carpets, and fine accoutrements accommodated the family and their wealthy guests, including Theodore Roosevelt. The couple's two children, Athenais, and Louis, as well as nurses, maids, and other domestic help, accompanied them to Medora. For three years, the family occupied the home seasonally, returning to New York during the winters. Among their pastimes were hunting, music, and art, common diversions of nineteenth-century aristocrats. Both Medora and the Marquis were skilled hunters.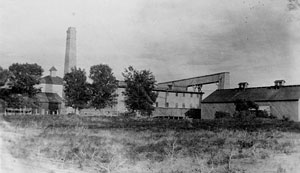 The ruins of the Marquis's meat-packing plant, situated on the west edge of Medora, are called Chimney Park. The packing plant was part of the Marquis's most ambitious project: to supply high-quality meat to the nations consumers quickly and economically by processing it locally and shipping it to market. With the help of his father-in-law, Baron Von Hoffman, the Marquis incorporated the Northern Pacific Refrigerator Car Company in April 1883. Although the plant could process 150 beef carcasses per day, finding cattle that were fit to butcher was difficult, due to the ongoing drought in the badlands. The plant closed in November 1886, a failure due to fierce competition from major Chicago-based packers, the effects of bad weather and drought, and the Marquis's inexperience in business.
When the Marquis left Medora in 1886, the plant was abandoned. The building burned in 1907. A tall, native-brick chimney still stands in silent tribute to this early attempt to capitalize on the meat-packing business.

Follow Chateau de Mores State Historic Site on Facebook!