Territorial Governors | Back to North Dakota Governors
ALLEN I. OLSON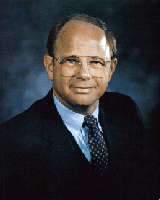 Twenty-eighth Governor
Residence: Bismarck, North Dakota
Years Served: 1981-1984
Date of Inauguration: January 6, 1981
Age at time of inauguration: 42
Politics: Republican
Born: Rolla, North Dakota - November 5, 1938
Political Background:
1972-1980: Attorney General of North Dakota
1981-1984: Governor of North Dakota
North Dakota native Allen Ingvar Olson completed his undergraduate education and received his law degree at the University of North Dakota. He served in the United States Army as a judge advocate general's corps lawyer. In 1967 he served as chief of military justice in Munich, West Germany. From 1967 to 1969 he was assistant director of the Legislative Research Committee (now called the Legislative Council), which directed the state's first study of strip mining, soil banks, and land reclamation. In 1969 Olson entered private practice in the Bismarck law firm of Conmy, Rosenberg, Lucas and Olson. In 1972 he ran for attorney general, and served two terms. In November 1980, he defeated incumbent Governor Arthur A. Link. Olson ran for re-election in 1984, but was defeated by George A. Sinner.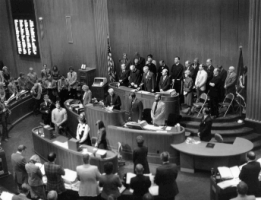 Governor Olson taking the oath of office,
January 6, 1981.
One of the most controversial issues of Olson's administration was the lawsuit filed against the state by the Association of Retarded Citizens, and deinstitutionalization of the Grafton State School and San Haven State Hospital. Governor Olson worked with the Task Force on Drunk Driving and supported the Garrison Diversion program. During his administration portions of the Cross Ranch were purchased with donations from the private sector and turned over to the state as a park. Another change which occurred during Olson's administration was the creation of the Department of Human Services. After leaving the governor's office, Olson returned to private practice of law in Bismarck for a year, then left the state to join the Minneapolis law firm of Fredrikson and Byron. In 1987 he left the law firm to become a co-owner of an alloy die-casting company in New Hope, Minnesota.