Territorial Governors | Back to North Dakota Governors
ARTHUR A. LINK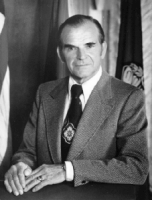 Twenty-seventh Governor
Residence: Alexander, North Dakota
Years Served: 1973-1980
Date of Inauguration: January 2, 1973
Age at Inauguration: 58
Politics: Democrat
Born: Alexander, North Dakota - May 24, 1914
Died: Bismarck, North Dakota - June 1, 2010
Political Background:
1946-1970: North Dakota House of Representatives
1970-1972: United States House of Representatives
1973-1980: Governor of North Dakota
Arthur Albert Link was born and raised in McKenzie County in the western part of the state. He worked on the family farm and received his education in the public schools. He attended the North Dakota Agricultural College in Fargo. Link's career in public service began on the local level as a member of county and state Farm Security Administration committees, Randolf Township Board of Supervisors, McKenzie County Welfare Board, and local school boards. He was elected to the North Dakota House of Representatives as a Nonpartisan League member of the Republican Party, but in 1956 Link and other members of the Nonpartisan League switched to the Democratic Party. In 1964 he was elected speaker of the house.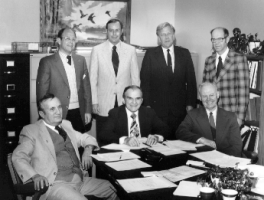 Governor Link and state officials, (front row, left to
right) Secretary of State Ben Meier, Governor Art Link,
Superintendent of Public Instruction Howard Snortland,
(back row, left to right) Attorney General Allen Olson,
State Auditor Bob Peterson, State Land Commissioner
Richard Lommen, and Deputy Land Commissioner
Otto Bervik, 1980.
As governor, Link favored careful management of the state's natural resources - particularly when the energy crisis caused controversy between those who wished to exploit North Dakota's coal and oil and those who wished to protect the state's environment. North Dakota's agricultural community prospered during Link's administration. Income and property tax laws were reformed by the legislature, but a reapportionment bill was vetoed by Link.Link promoted foreign and domestic trade. He has been a strong supporter of the North Dakota Heritage Center, and in 1985 he was appointed chairman of the Centennial Commission by Governor George Sinner. Exploration of North Dakota's great mineral wealth was a big issue during Governor Link's administration. Link advocated a conservative policy of coal and oil development.